Get PolitiFact in your inbox.
"The region I represent, both currently and in the future, has more automotive plants than the entire state of California."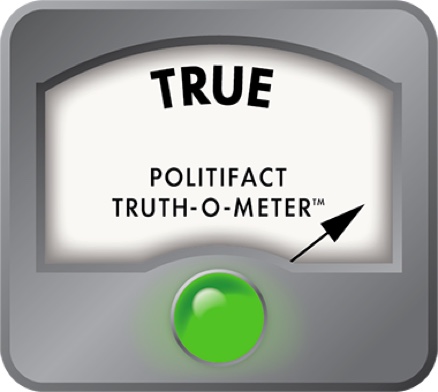 Marcy Kaptur says her district makes more cars than all of California
Like most members of Congress, Toledo Democratic Rep. Marcy Kaptur is a big booster of her congressional district. During a May 17 appearance on C-SPAN, Kaptur described the reconfigured area that she'll represent if she wins her race against Republican Samuel "Joe the Plumber" Wurzelbacher as "the crown jewels of Ohio."

To illustrate the area's industrial prowess,  Kaptur discussed how she enjoys pulling her car over beside the railroad tracks in Toledo and watching all the flatbeds go by, full of steel coils, bar steel and other metals bound for auto plants or gas drilling facilities elsewhere in Ohio.

One of Kaptur's boasts about the area's manufacturing accomplishments got PolitiFact Ohio's attention.

"The region I represent, both currently and in the future, has more automotive plants than the entire state of California," Kaptur said.

Could the slice of Ohio that Kaptur now represents, as well as the new district that stretches along Lake Erie between Toledo and Cleveland, really have more auto plants than the nation's most populous state?

Getting the answer was be easier than we thought.

It turns out that California no longer has any auto plants. The last car one - a joint venture between Toyota and General Motors in Fremont - closed in 2010. The Los Angeles Times said the plant's closure marked the "the end of large-scale auto manufacturing in California, which over the years boasted a dozen or more plants building vehicles ranging from Studebakers to Camaro muscle cars."  

Toyota made Corollas cars and Tacoma pickup trucks at the plant in Fremont, while GM made Pontiac Vibes.

GM dropped its portion of the plant in its bankruptcy. Then Toyota scrapped its portion. At the time, the United Auto Workers union criticized Toyota for the decision, saying it was dumping the plant because it was the company's only unionized facility in the United States.

Tesla Motors wants to  reopen that factory to manufacture its all-electric Model S sedan, but hasn't yet done so.

The district that Kaptur currently represents has four auto plants, according to her spokesman, Steve Fought: Chrysler's Toledo Supplier Park and Toledo North plants,  GM's Toledo Transmission plant, and KBI's bearing plant  in Sandusky. The new Ninth District will have three more: Ford's Brook Park Engine Plant,  Ford's Avon Lake plant, and GM's Parma Metal Center.

The number of auto plants in Kaptur's current and new congressional districts both exceed the number of auto plants in California - zero.

On the Truth-O-Meter, Kaptur's claim rates True.
Los Angeles Times, The end of the line for California automaking, August 28, 2009

Los Angeles Times, Pending Closure of Toyota Plant in California is Protested, February 12, 2010

Los Angeles Times, Tesla gears up to hire manufacturing workers, January 17, 2012

Emails with Kaptur spokeman Steve Fought, May 17 to May 22, 2012
Browse the Truth-O-Meter
More by Sabrina Eaton
Support independent fact-checking.
Become a member!
In a world of wild talk and fake news, help us stand up for the facts.