Stand up for the facts!
Our only agenda is to publish the truth so you can be an informed participant in democracy.
We need your help.
I would like to contribute
A bill that could restrict free speech when the president is nearby was signed by President Barack Obama "in secret."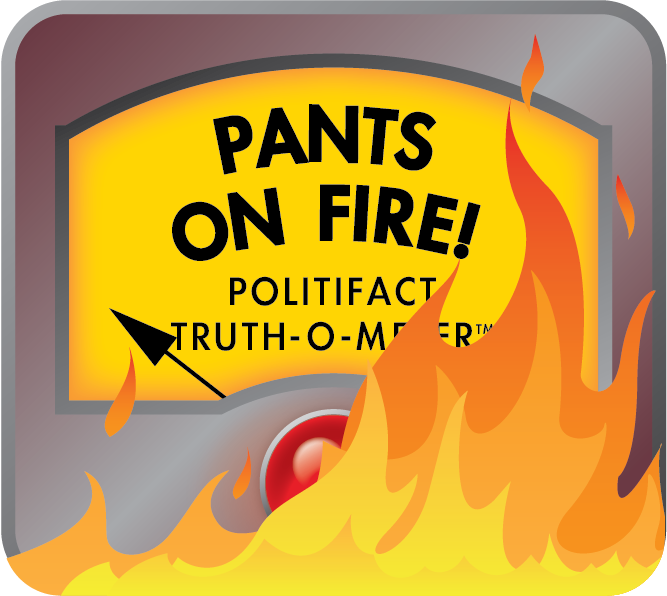 Andrew Napolitano and chain email say Barack Obama signed controversial law "in secret"
A new chain email says a bill signed by President Barack Obama raises the specter of Nazi Germany.

"Who would have believed this would ever happen in the USA . . . . .  or is this 1933, and are we in NAZI Germany . . .

"This is serious and it just was signed into law last Thursday, March 15th in SECRET!!  HR 347. Our glorious politicians on both sides, and Obama do it again!"

The email links to a Fox News segment with legal commentator Andrew Napolitano, as well as a Cincinnati TV station's "reality check" on the law, and a blog post by the American Civil Liberties Union.

Because most of the material provided by the email is in the realm of opinion -- indeed, it would likely be subject to interpretation by federal courts -- we will limit our fact-check to the suggestion that the law was signed "in secret," a claim made not only by the email but also by Napolitano, who in the interview said the law was "a slow, creeping destruction of some of our basic liberties, and the president signed it in secret."

Let's start by taking a look at the law, and the critics' interpretations of it.

What the law says

The Federal Restricted Buildings and Grounds Improvement Act of 2011 was signed by Obama on March 8, 2012. The law is filled with legalese that gives only hints of its potential reach. A summary on THOMAS, the database run by the Library of Congress, suggests the law puts up restrictions for buildings when the president or anyone else protected by the Secret Service is nearby. It says the law:
 
Amends the federal criminal code to revise the prohibition against entering restricted federal buildings or grounds to impose criminal penalties on anyone who knowingly enters any restricted building or grounds without lawful authority. Defines "restricted buildings or grounds" as a posted, cordoned off, or otherwise restricted area of: (1) the White House or its grounds or the Vice President's official residence or its grounds, (2) a building or grounds where the President or other person protected by the Secret Service is or will be temporarily visiting, or (3) a building or grounds so restricted due to a special event of national significance.

The punishment would be a fine or imprisonment for not more than 10 years, or both, if it involves a weapon or results in "significant bodily injury." For lesser offenses, the punishment could be a fine and imprisonment for not more than one year.

The critics' concerns

So what is Napolitano concerned about? Here's an excerpt from his interview with Fox News' Eric Bolling. (Napolitano didn't respond to our interview request made through his website.)

"This is not like a traffic ticket," Napolitano said. "For standing and protesting, the type of thing that for 230 years Americans took for granted because it was protected by the First Amendment - 'Congress shall make no law abridging the freedom of speech' – has actually been abridged. By legislation the president signed last Thursday, supported overwhelmingly by both parties, with very very little public debate and very little debate in Congress, basically allows Secret Service agents to decide where there are 'no-free-speech zones' …. And anybody by the Secret Service, protected by the Secret Service, can ask those agents to ban protests wherever they are. So I can think of three violations (of constitutional protections): speech violations, association violations, the right to petition the government for a redress of your grievances. What good is free speech if the people in the government are so far away from you that they can't hear you?"

The ACLU expressed concerns about the bill as well, but in a more measured fashion.

In a blog post, Gabe Rottman, a legislative counsel and policy advisor in the ACLU's Washington Legislative Office, wrote that "it's important to note — contrary to some reports — that H.R. 347 doesn't create any new crimes, or directly apply to the Occupy protests. The bill slightly rewrites a short trespass law, originally passed in 1971 and amended a couple of times since, that covers areas subject to heightened Secret Service security measures."

Rottman added, "Any time the government lowers the intent requirement, it makes it easier for a prosecutor to prove her case, and it gives law enforcement more discretion when enforcing the law. To be sure, this is of concern to the ACLU. We will monitor the implementation of H.R. 347 for any abuse or misuse. … Rest assured we'll be keeping an eye on how this law will be interpreted and used by law enforcement — especially in light of the coming elections."

The 'secret' signing

So was the bill signed "in secret"?

If it was, then how would we know about it to write this fact-check?

The strongest evidence that the bill was signed "in secret" was that Obama didn't sign it in a public ceremony. The White House released a brief statement after it was signed. The statement said, in its entirety, "On Thursday, March 8, 2012, the President signed into law H.R. 347, the 'Federal Restricted Buildings and Grounds Improvement Act of 2011,' which makes it a federal crime to enter or remain knowingly in any restricted area of the White House, the Vice President's official residence, or their respective grounds without lawful authority."

But that statement wasn't secret. In fact, it was a statement from White House Press Secretary Jay Carney that was emailed to journalists on the White House email list -- a list estimated to include several thousand addresses, according to the White House.
In addition, the White House told PolitiFact that the bill had been listed on a White House web page for pending legislation before it was signed. And it's important to note that most bills are signed without public ceremonies, according to Senate historian Don Ritchie.

So there wasn't the hoopla that surrounds some signings, but it was no secret.

In addition, the existence of the bill itself had been known for more than 14 months, and its passage by both chambers of Congress -- and its delivery to the president for his signature -- was public for the whole time.

The bill was introduced in January 2011 by Rep. Tom Rooney, R-Fla. Within weeks, it was considered by both the relevant subcommittee and the full committee. On February 28, it was debated on the House floor, in speeches televised on C-SPAN.

Rooney urged his colleagues to vote for the measure and the bill was seconded on the floor by a Democrat, Rep. Hank Johnson of Georgia. No one rose to speak against the bill.

The bill then proceeded to a vote, under a process called "suspension of the rules" -- a fast-track process used for bills considered non-controversial by the leadership. Using this streamlined process, a bill needs a two-thirds vote to pass, rather than just a simple majority. In this case, the House voted in favor of the bill, 399-3.

At that point, the bill went to the Senate, where it became stalled. In November 2011, an amended version made it through the Judiciary Committee, and on Feb. 6, 2012, the Senate announced that it had passed by "unanimous consent" -- a process by which Senators approve a bill without a formal vote, after all Senators have been consulted and none have offered objections.

Because the Senate passed an amended version of the bill, it had to go back to the House to be reconciled. On Feb. 27, 2012, the House began a new debate on the amended bill, in which Rooney and Johnson once again spoke on its behalf. Once again, no one rose to speak against the bill. And once again, the bill was put to a vote under suspension of the rules. For a second time, the vote was lopsidedly in favor -- 388-3.

With the House and Senate both having passed the bill, it went to the president for his signature on March 1, 2012. Eight days later, Obama signed it, and it became Public Law 112-98.

So while it's true that Obama didn't invite the media or other observers in for a signing ceremony, the bill had gone through a very public process on its way to becoming law. It twice received a debate (albeit brief ones) on the House floor. The House twice voted on it publicly, in proceedings aired on C-SPAN. And after the second House passage, it was hardly a state secret that the bill was headed to the president's desk for his signature.

Our ruling

Napolitano said the law was signed "in secret." But the path of H.R. 347 to the president's desk was very public.

It was introduced in public, discussed in public, voted on in public, and then signed the same way as most bills. The White House says it posted the bill on its web page for legislation awaiting the president's signature.

It's true that there weren't cameras present, but if they had been, what would they have captured? That Obama signed the bill. That fact was announced by the White House the same day in a statement sent to thousands of journalists.

There may be legitimate reasons to question whether the law infringes on constitutional rights. But there were many occasions during its public consideration when critics could have questioned lawmakers and the White House about the law. We rate the claim Pants on Fire.
Chain e-mail received by PolitiFact on H.R. 347

Andrew Napolitano, interview with Eric Bolling on Fox News

Fox News 19 Cincinnati, "Reality Check" segment

American Civil Liberties Union, "How Big a Deal is H.R. 347, That 'Criminalizing Protest' Bill?"
March 8, 2012

Text of H.R. 347, the Federal Restricted Buildings and Grounds Improvement Act of 2011

White House, statement on the president's signing of H.R. 347, March 8, 2012

Results of first House vote on H.R. 347

Results of second House vote on H.R. 347

PolitiFact, "Allow five days of public comment before signing bills," updated May 26, 2009

Email interview with Brian Darling, senior fellow for government studies at the Heritage Foundation, March 30, 2012

Email interview with Burdett Loomis, University of Kansas political scientist, March 30, 2012

Email interview with Don Ritchie, U.S. Senate historian, March 30, 2012
Browse the Truth-O-Meter
More by Louis Jacobson
Support independent fact-checking.
Become a member!
In a world of wild talk and fake news, help us stand up for the facts.