Stand up for the facts!
Our only agenda is to publish the truth so you can be an informed participant in democracy.
We need your help.
I would like to contribute
U.S. Sen. Bill Nelson was "the deciding vote for the health care law."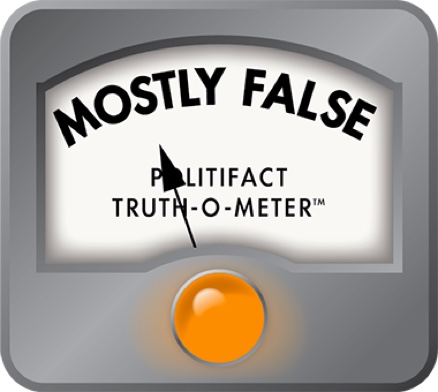 Was Florida's Bill Nelson "the deciding vote" on the health care law?
A conservative senior citizens group, the 60 Plus Association, launched a $1.1 million ad buy in June attacking U.S. Sen. Bill Nelson, D-Fla., for his votes on health care and the stimulus. The ad says:

"Times have been tough in Florida. Almost 1 million out of work. Businesses shutting down. Thousands of homeowners facing foreclosure. But in Washington, Bill Nelson supports President Obama's policies that hurt hardworking taxpayers. He voted for Obama's failed $800 billion stimulus, but employment still went up, and was the deciding vote for the health care law that cuts $500 billion from Medicare to pay for new government programs. Tell Bill Nelson, protect hardworking taxpayers. Stop the wasteful spending."

The ad repeats a number of charges against Obama and Democrats who supported him. For example, PolitiFact has fact-checked the claim by the U.S. Chamber that Nelson voted to cut $500 billion from Medicare and ruled it Mostly False.

For this report, we wanted to check if Nelson cast the "deciding vote" for the health care law.

The claim has been made before about other Democratic senators. PolitiFact has fact-checked that the "deciding" vote for health care was U.S. Sen. Sherrod Brown of Ohio and U.S. Sen. Michael Bennet of Colorado.

How can so many lawmakers cast the deciding vote?

The 2009 health care vote

For its evidence, the ad cited a health care vote on Dec. 24, 2009. That vote showed 59 Democrats and one independent voting together in favor of the bill, including Nelson. (Sixty votes were needed for a preliminary cloture vote to prevent filibusters.)

So couldn't we argue that any of the 60 cast the deciding vote?

As we noted before, there is a long history of senators holding back their votes until their demands are met. Some senators did hold out until the last minute -- but Nelson wasn't one of them.

One of the detailed reports we've seen on the final negotiations for the law is from the Los Angeles Times. According to its report, one of the most crucial votes came from Sen. Joe Lieberman, I-Conn.

According to the newspaper, Senate Majority Leader Harry Reid, D-Nev., "knew that he had to keep Lieberman in the tent. And the next night, when Democrats gathered for a special caucus meeting, Reid did not call out the Connecticut senator, focusing instead on the need to unite and move forward."

At the meeting, Reid turned to Sen. Ben Nelson, D-Neb., who also "had a long list of demands, including more restrictions on funding abortions and full federal funding to expand Nebraska's Medicaid program. ... Reid was closing in on a deal."

Suddenly, another roadblock appeared: Republican opponents of the bill threatened to filibuster -- that is, indefinitely block consideration of -- an unrelated defense appropriations bill as a way of indirectly delaying the health care measure. To get around that, Reid had to convince U.S. Sen. Russ Feingold, D-Wis. -- an opponent of the defense bill for substantive reasons -- not to join the Republican blockade.

"Reid was unwilling to challenge Feingold on a vote of conscience," the Los Angeles Times article reported. "And when Democrats gathered for yet another special caucus meeting ... Reid was ready to concede defeat. But as dejected senators began to leave, Feingold arose: He would put aside his convictions on the war, he said, and vote with his party. 'I don't think there was a dry eye in the caucus room,' said Sen. Benjamin L. Cardin, D-Md."

There was also a concern about whether Sen. Robert Byrd, D-W.Va., would physically be unable to reach the chamber because he had been in the hospital with a staph infection but he was brought in in a wheelchair and voted.

Bill Nelson's role

In the summer of 2009, Bill Nelson was quiet about health care reform -- angering some Democratic activists. But in September he jumped into the fray -- offering amendments about Medicare Advantage and Medicare drug benefits. Nelson sounded cautiously supportive in news accounts -- saying he had some criticisms but called the bill a "starting point."

"There are serious issues to be resolved," Nelson said in a speech on the floor of the Senate in September 2009. "This senator is optimistic, and I believe that we are going to be able to achieve this goal of expanding affordable health care to nearly all Americans."

In October 2009, Nelson joined other Democrats on the Senate Finance Committee in voting for the health care plan. Nelson called the package a "good start." 

In November during public stops in the Tampa Bay area, he predicted the Senate would pass a health care bill and said: "If we don't do something about health care, it's going to run our country into bankruptcy." The Orlando Sentinel described him as an "enthusiastic cheerleader for the emerging legislation."

After the December vote, the health care bill still needed changes and another round of approvals. Nelson's office issued a press release in March 2010 saying that despite the legislation's "flaws" -- including that it didn't force drug makers to reduce the costs of prescriptions -- he would support it.

"Nelson, who had been considered by some to be a possible swing vote, made his declaration just at the outset of Senate starting its deliberations on changes to the health care signed into law by President Obama yesterday," stated Nelson's press release.

The other Nelson's role

When the recent ad from the 60 Plus Association started airing, Nelson pointed to his colleague U.S. Sen. Ben Nelson, D-Neb., as the deciding vote. Florida's Nelson wrote on his Facebook page that the 60 Plus Association "repeats an outrageous claim that I cast the deciding vote on health care reform legislation that cuts Medicare. First off, fact-checkers have found the legislation didn't cut Medicare. And second, it was BEN NELSON, not me, who cast the deciding vote."

Several news articles described Sen. Ben Nelson as the final key for Senate Democrats in 2009. The Nebraska senator announced his support days before the Christmas Eve vote, after he reached a compromise about abortion and federal funding for his state. But in March 2010 the Nebraska senator voted against the final bill.

The Nebraska senator told CNN in December 2009: "I couldn't create the opportunity to be the 60th vote. It happened. … If you think it's fun having both sides on an issue mad at you when you are trying to do something in good faith, just think it's like going home and getting bit by the family dog. So who enjoys that?"

Sen. Bill Nelson's Senate spokesman Dan McLaughlin told PolitiFact in an email: "There's no way every Democratic senator could have cast the 'deciding vote.' And there's no way to say Bill Nelson cast the deciding vote - when he didn't. Nelson didn't like the bill. He tried to improve it. Among other things, he offered an amendment against the drug-makers. And, he announced his vote well before the roll call. He played no extraordinary role in the final passage."

We asked the 60 Plus Association how it concluded that Sen. Bill Nelson was the deciding vote and forwarded the Florida senator's Facebook comments about Sen. Ben Nelson.

"Seems very odd that (Sen. Bill Nelson) would call out a colleague as a deciding vote for legislation he wholeheartedly supported," said Gerry Scimeca, a spokesman for the 60 Plus Association, in an email. "The fact is, had Nelson voted 'no' Obamacare would have died. Without his vote, the law couldn't have passed; he could have stopped it but he didn't." 

Our ruling

The 60 Plus Association says that Florida Sen. Bill Nelson cast the "deciding vote" for health care. The health care law required 60 votes, so Nelson's vote was crucial -- as were the other 59 votes. But describing Nelson as the "deciding vote" suggests he had some extraordinarily powerful role, and that's not the case. Nelson had cautiously been a supporter for months as he tried to amend the law. We rate this claim Mostly False.
60 Plus Association, "Tell Bill Nelson to protect hardworking taxpayers and stop the wasteful spending" ad, June 6, 2012

U.S. Sen. Bill Nelson on Facebook, June 6, 2012

CNN, "CNN Exclusive: Nelson answers his critics on health care reform," Dec. 20, 2009

PolitiFact, "NRC attacks Michael Bennet for casting the deciding vote for stimulus, health care," Oct. 26, 2010

PolitiFact, "Josh Mandel says Sherrod Brown cast the deciding vote for a government takeover of health care," May 30, 2012

PolitiFact, "What makes a vote a deciding vote?" Oct. 26, 2010

Sun-Sentinel's Florida Politics blog, "Florida senators split on health care," Nov. 9, 2010

WESH TV, "Truth Test: Bill Nelson attack ads," May 17, 2012

CBS, "Senate passes reconciliation health bill," March 26, 2010

U.S. Sen. Bill Nelson, Excerpts from Sen. Bill Nelson's remarks, Sept. 16, 2009

U.S. Sen. Bill Nelson press release, "Despite legislation's flaws, senator declares it will have his vote," March 24, 2010

U.S. Sen. Ben Nelson press release, "Nelson statement on reconciliation bill," March 22, 2010

U.S. Senate, roll call vote on the motion to invoke cloture on H.R. 3590 (health care bill), Dec. 23, 2009

Govtrack, H.R. 3590 Senate vote 396, Dec. 24, 2009

New York Times, "Despite Fragile Health, Byrd Is Present for Votes," Dec. 23, 2009

Tampa Bay Times, "Sen. Bill Nelson votes for health care plan, blasts industry-funded study," Oct. 14, 2009

Tampa Bay Times, "Nelson pushes healthcare reform," Accessed in Nexis Nov. 10, 2009

Boston Globe, "Democrats grab final vote for health bill," Dec. 20, 2009

New York Times, "Democrats clinch deal for deciding vote on health bill," Dec. 10, 2009

Los Angeles Times, "How Harry Reid threaded a needle," Dec. 24, 2009 (accessed via Lexis-Nexis)

Miami Herald, "Bill Nelson enters healthcare reform debate," Sept. 29, 2012

Interview, Dan McLaughlin, spokesman for U.S. Sen. Bill Nelson, June 7, 2012

Interview, Gerry Scimeca, spokesman for 60 Plus Association, June 7, 2012
Browse the Truth-O-Meter
More by Louis Jacobson
Support independent fact-checking.
Become a member!
In a world of wild talk and fake news, help us stand up for the facts.