Stand up for the facts!
Our only agenda is to publish the truth so you can be an informed participant in democracy.
We need your help.
I would like to contribute
Says Rep. Jim Renacci was "trying to leave town for the holidays without extending your payroll tax cut."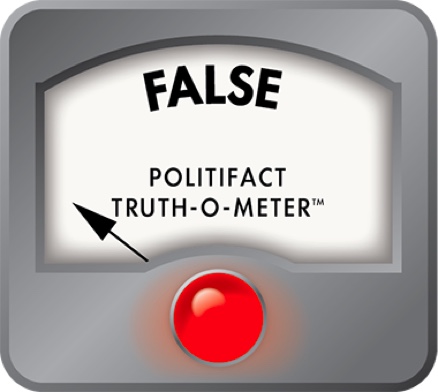 DCCC says Jim Renacci was trying to avoid voting on payroll tax cut extension
Defeating a Democratic incumbent, as GOP Rep. Jim Renacci did in 2010, is a sure-fire way to become a regular target of the Democratic party's congressional campaign arm, the Democratic Congressional Campaign Committee.

Throughout December 2011, the group made Renacci part of its "Drive for 25" campaign to target Republicans it deems politically vulnerable with robocalls, news releases, and online ads. It accused Renacci, of Wadsworth, Ohio, of personally thwarting budget cut negotiations by a so-called super committee that he was not a member of and pushing for tax cuts for the wealthy instead of the middle class.

The group launched a robocall campaign against Renacci on Dec. 9, telling voters that Renacci "is trying to leave town for the holidays without extending your payroll tax cut." They accused Republicans of trying to "force a $1,000 payroll tax increase on 160 million middle class Americans, while fighting for billionaires and Big Oil." They then offered to connect callers to Renacci's office, to tell the congressman "that it is unacceptable to leave Washington for the holidays and raise your taxes."

As Renacci prepared to vote on a Dec. 13 GOP plan that combined the payroll tax cut extension with other GOP priorities, including accelerated review of the Keystone XL oil pipeline, Democrats hammered him with yet another news release accusing him of trying to skip off on vacation "rather than protect 5.8 million middle income Ohio families from a $1,000 payroll tax increase."

Renacci backed the GOP package, which most Democrats opposed because they disliked other parts of the bill. For example, fellow Ohioan Rep. Marcia Fudge said she objected to provisions it contained that would reduce the length of time people could collect unemployment benefits and permit states to require drug testing for beneficiaries.

Before the vote, President Barack Obama said he would not accept a measure that tied the payroll tax reductions to "a whole bunch of extraneous issues," and leaders of the Democrat-controlled U.S. Senate said it would die there after passing the House.

Renacci said he was pleased that the bill contained his idea to allow states to redirect unemployment benefits to employers for use in hiring unemployed workers. Renacci wanted to make sure that any payroll tax cut extension in the bill would be paid for by spending cuts elsewhere in the budget, said his spokesman, Shawn Ryan.

Ryan called it "absurd" for the DCCC to claim that Renacci was eager to leave town without taking care of the payroll tax issue. He noted that a Nov. 21 news release from Renacci called on all members of Congress to stay in Washington through the holidays "until a plan to control our massive yearly deficits is finalized."

So we asked the DCCC how it could allege that Renacci was trying to leave town without voting on the payroll tax issue when he supported a measure that would make the desired cuts to pay for it.

The DCCC responded that Renacci has not backed "clean votes" on extending the payroll tax, and only backed legislation that he knew had no chance for passage.

Fair enough, but that's a lot different from the claim that he was trying to leave town without voting on the issue at all.

The Democrats have a point about the slim prospects for passage of the GOP payroll tax bill that Renacci backed. Senate President Harry Reid said the bill would be dead on arrival, and the legislation, in fact, went no where in the Senate. Ultimately, Renacci and other members of the House backed a Senate compromise that extended the payroll tax reduction for two months.

With newly drawn congressional districts in Ohio, Renacci faces an election challenge from Rep. Betty Sutton, a Democrat whose district was carved up on the new map. PolitiFact Ohio is sure that this salvo is just the beginning, with many claims to come from both sides.

But as for this one, Renacci indicated he was open to extending the payroll tax cut and did vote for a bill that contained the extension. And the DCCC asserted no grounds of support for the claim that that Renacci wanted to leave Washington without voting.

On the Truth-O-Meter, we rate the DCCC's claim False.
Democratic Congressional Campaign Committee, news release "DCCC Launches New Campaign About Representative Renacci's Budget Priorities After Super Committee," Nov. 30, 2011

DCCC, news release "Vote Alert: Representative Renacci Again Votes To Block Middle Class Tax Cut," Dec. 8, 2011

DCCC, news release "DCCC Launches Accountability Campaign About Representative Renacci's Middle Class Tax Increase." Dec. 9, 2011

House Roll Call Vote 923, December 13, 2010

Office of Rep. Jim Renacci, news release "Renacci Initiative Included in Comprehensive Unemployment Insurance Reform Bill," Dec. 13, 2011

Office of Rep. Jim Renacci, news release "Renacci: Deficit Committee's Failure Shows Washington Still Doesn't Understand Debt Problem," Nov. 21, 2011

Office of Rep. Marcia Fudge, news release "Congresswoman Fudge Fights Back Against Efforts to Cut Medicare and Unemployment Insurance," Dec. 13, 2011

The White House, Statements by President Barack Obama and Prime Minister Stephen Harper of Canada, Dec. 7, 2011

Emails and interview with Renacci spokesman Shawn Ryan, Dec. 14, 2011

Emails with DCCC spokeswoman Haley Morris, Dec. 14 and 15, 2011

Browse the Truth-O-Meter
More by Sabrina Eaton
Support independent fact-checking.
Become a member!
In a world of wild talk and fake news, help us stand up for the facts.