Stand up for the facts!
Our only agenda is to publish the truth so you can be an informed participant in democracy.
We need your help.
I would like to contribute
"Most countries have no debt ceiling."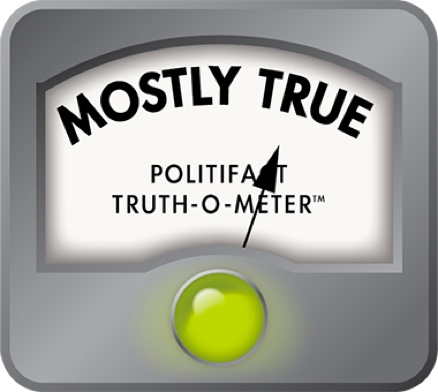 Arianna Huffington says U.S. debt ceiling rules are unusual internationally
On the July 24, 2011, edition of ABC's This Week with Christiane Amanpour, Arianna Huffington, a liberal commentator and founder of the Huffington Post, sought to provide viewers with a bit of historical context on the debt ceiling.

The issue was pertinent because Democrats and Republicans have been engaged in high-stakes negotiations over whether and how to raise the limit on how much the federal government can legally borrow. Republicans are using the looming deadline as leverage to cut government outlays, while Democrats say that blocking an increase risks the nation's creditworthiness, potentially complicating an already delicate economic situation.

Huffington focused her comments on how unusual the U.S. rules for debt limits are.

"I think this a completely artificial crisis," Huffington said. "Most countries have no debt ceiling. We (established) the debt ceiling in the First World War. It's been raised dozens of times. …"

Amanpour pointed out, "But the thing is, it is a crisis now.":

Huffington replied, "But it is a crisis because they made it a crisis. It's not a real crisis. We have many, many real crises. We have a job crisis. We have a growth crisis. We have a deficit crisis. We have a human capital crisis. We have an infrastructure crisis. We are not handling these crises now. We are handling a completely artificial crisis."

We wondered whether the U.S. system is really as unusual as Huffington suggested. So we looked into it.

First, some background. The debt limit, often called a "debt ceiling," sets a cap on how much the U.S. Treasury may borrow from the public and from other governmental agencies. Huffington is correct that the statutory limit on federal debt began in 1917, in a bill that helped finance the U.S. entry into World War I, according to the Congressional Research Service.

Once the nation's outstanding debt nears the debt ceiling, Congress must vote on, and the president must sign, a bill that raises the limit. Huffington is also correct that this has happened repeatedly over the years -- more than 90 times since 1940.

If Congress and the president fail to agree to a debt ceiling increase, the government risks defaulting on payments to at least some of its creditors -- a development that independent ratings agencies have already made clear would lead to lowering the U.S. government's usually top-tier credit rating. Many experts say that a default followed by a lowering of the U.S. credit rating could increase the costs of borrowing for all Americans and harm the fragile economic recovery.

So that's how the U.S. system works. How unusual is it? The first conclusion we drew from our research is that there has been no comprehensive study of how every country manages and limits its government's debt level. So we have drawn inferences from a handful of studies that are more anecdotal than complete.

In a report published last February, the Government Accountability Office, the oversight arm of Congress, described the U.S. system as fairly unusual, since the U.S. debt ceiling process moves independently of the general budgeting process.

"The U.S. statutory debt limit is an uncommon attribute not shared by most sovereign debt issuers in that it is not tied to the budgetary process. As a result, when the government adopts a budget, the financing of the expenditures authorized is not automatically assured. While lawmakers in April approved spending appropriations for fiscal year 2011 (after continuing resolutions had allowed the government to operate since the beginning of the fiscal year), about 40 percent of this spending must be funded by borrowing. Borrowing is subject to the debt limit, with the current limit having been approved in February 2010. There is, therefore, no direct connection between the spending levels authorized by Congress and the ability of the government to fund this spending."

More common, the GAO said, are systems in which the passage of the annual budget includes provisions to approve borrowing authority.

"For example, in Canada, the Ministry of Finance is provided with a fixed amount that it is authorized to borrow for the fiscal year," the GAO wrote. "When necessary, the Ministry of Finance can request increased borrowing authority from the executive branch of government to fund unforeseen borrowing needs. In Sweden, the legislature approves borrowing authority annually; however, it is limited (by) purpose — to finance current deficits, provide loans, and redeem national debt, for example — rather than by amount."

In several other countries, including the United Kingdom and New Zealand, treasury officials are provided with broad authority to borrow as needed, the GAO wrote. In a parliamentary system like the U.K., the same party always controls the executive branch and the legislative branch, limiting the kinds of disputes that emerge frequently in a system with checks and balances like that in the U.S.

Some countries don't have a debt ceiling but rather have targets that cap debt based on mathematical formulas.

Switzerland, the GAO wrote, has a constitutional "debt brake" that limits expenditures to expected revenue plus adjustments for the state of the business cycle. Meanwhile, Germany has a constitutional amendment that requires that structural deficits not exceed 0.35 percent of Gross Domestic Product. Both have exceptions for economic emergencies -- another difference from the U.S. system. Sweden's target is a net surplus of 1 percent of GDP over the course of the business cycle. Chile also uses this sort of target.

The European Union has set a target of keeping gross government debt to 60 percent of GDP and budget deficits to 3 percent of GDP. But these limits are not binding and have not been thoroughly enforced.

The only country examined by the GAO and other analysts that has a system similar to that used in the U.S. is Denmark. However, a Danish official told the GAO that the procedure has inspired a lot less brinksmanship than the U.S. process. "The limit is set high enough that it does not impede debt managers' ability to issue debt," the official said.

Experts we spoke to agreed that the U.S. system is, if not unique, then at least quite unusual.

"Restrictions of that general form are very uncommon, and none seem to approach the rigidity of the U.S. provision," said Barry Bosworth, an economist at the centrist-to-liberal Brookings Institution.

So where does this leave us? While other countries -- with the exception of Denmark -- don't have a debt ceiling mechanism exactly like the U.S. has, most countries that have been studied do use either mathematical targets or require approval of new borrowing authority whenever a budget is passed. So it's not as if other countries have no debt limits -- they simply limit their debt using different tools.

We think there's validity in Huffington's underlying point -- that the U.S. system of imposing a debt ceiling is unusual and that it's more arbitrary than most other systems. So we rate her statement Mostly True.
Arianna Huffington, comments on ABC's This Week with Christiane Amanpour, July 24, 2011 (CQ subscribers only)

Office of Management and Budget, "Table 7.3—Statutory Limits on Federal Debt: 1940–Current," accessed July 25, 2011

Congressional Research Service, "The Debt Limit: History and Recent Increases," Updated April 29, 2008

Government Accountability Office, "Debt Limit: Delays Create Debt Management Challenges and Increase Uncertainty in the Treasury Market," February 2011

Moody's Investors Service, "How a US Limit on Debt Can Be Credit Negative," July 18, 2011 (Moody's subscribers only)

ABC News, "Only One Democratic Country, Besides America, Has a Debt Ceiling," July 19, 2011

PolitiFact, "How bad would default be for U.S. creditworthiness?" July 16, 2011

Reuters, "Moody's suggests U.S. eliminate debt ceiling," July 18, 2011

E-mail interview with Joseph E. Gagnon, senior fellow at the Peterson Institute for International Economics, July 25, 2011

E-mail interview with Barry P. Bosworth, senior fellow with the Brookings Institution, July 25, 2011
Browse the Truth-O-Meter
More by Louis Jacobson
Support independent fact-checking.
Become a member!
In a world of wild talk and fake news, help us stand up for the facts.