Stand up for the facts!
Our only agenda is to publish the truth so you can be an informed participant in democracy.
We need your help.
I would like to contribute
Says Ron Wyden spent $2 million "to study exotic ants."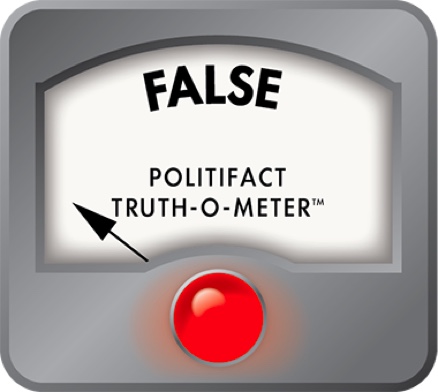 Jim Huffman attacks Ron Wyden for spending $2 million on the study of exotic ants
It's a popular theme among Republicans this year: Democrats are shoving the nation into endless debt with irresponsible spending -- mostly because of the stimulus. And what better way to illustrate this profligate spending than ... ant research?

Yep. Ant research. And what's worse, it's not research on your run-of-the-mill picnic-destroying ant. It's exotic ant research.

Republican Senate hopeful Jim Huffman took a page out of Arizona Sen. John McCain's book, dinging Democratic incumbent Sen. Ron Wyden in a recent television ad for voting to fund a study of exotic ants.

After an ominous intro about Oregon's unemployment rate and the growing national debt, the ad takes its entomological turn: "Wyden spent $2 million dollars to study exotic ants," a man says to his wife, while shaking his head. "And you thought he was out of touch."

So does Wyden have a thing for ants or is Huffman making a mountain out of an anthill?

Well, before we get into all that, let's take a look at how, exactly, ants found their way into our political picnic in the first place. Back in August 2010, Sens. McCain and Tom Coburn, R-Okla., released a list their top "100 stimulus projects that give taxpayers the blues."

On Page 6, the Republican senators take aim at a favorite target, San Francisco, and a $1.9 million ant research project based out of the California Academy of Sciences. In short order, this bit of stimulus spending then found its way into the California Senate race and into the political discourse down in Texas.

So how does it relate to Oregon's Senate race?

Wyden did, indeed, vote in favor of the $787 billion American Recovery and Reinvestment Act, along with 60 other senators (including three Republicans and two Independents).

But that vote, it turns out, didn't release any money to ant research -- not directly.

The federal stimulus gave  $3 billion to the National Science Foundation, which otherwise had a budget of about $6.5 billion in 2009, according to the foundation's Website. The foundation is distributing the money using the same peer-review process with which it normally decides on which research to fund.

As it turns out, one scientist's study on ants of the Southwest Indian Ocean and East Africa made the cut. PolitiFact Oregon caught up with Brian Fisher, the project's leader and curator of entomology at the California Academy of Sciences, to pick his brain about the recent political celebrity of ants. He was, maybe surprisingly, pretty unfazed.

"I think it's legitimate," he said. "There's no reason why people shouldn't challenge this and question what we're doing."

What exactly are they doing? Well, over the course of the next five years, Fisher and his team will be studying arthropods -- a category that includes ants -- in a part of the world he describes as immensely diverse, biologically speaking. While ant research might not seem like an obvious target for government funds, Fisher provides a logical defense.

Ants, Fisher says, offer insight into climate change, the spread of disease and natural disasters. "You can't monitor every single living thing, (but) there are key groups that can serve as indicators for other taxa, ants being one of them," he said. "Without them, we wouldn't have a functioning ecosystem."

It's also worth noting that the project has so far helped employ 16 people, at Fisher's last count.

At Politifact Oregon, we think it would be fair to say that Wyden's vote did eventually lead to the funding of a study of exotic ants. But it happened in such a roundabout way that Huffman's claim that "Wyden spent $2 million dollars to study exotic ants" is disingenuous. Wyden voted for a bill that, despite being thousands and thousands of words long never mentions the word "ants." Instead it directed more money to the National Science Foundation, which then distributed the funds as it saw fit.

PolitiFact Oregon rates the claim False.
Jim Huffman, campaign advertisement, Sept. 17, 2010

Sens. John McCain and Tom Coburn, Summertime Blues, August 2010

San Francisco Chronicle, U.S. Senate approves key state aid package, Aug. 5, 2010

National Science Foundation Website, Sept. 22, 2010

Text of H.R. 1 (the American Recovery and Reinvestment Act) as approved by both the U.S. House and Senate

Interview with Brian Fisher, curator of entomology at the California Academy of Sciences, Aug. 21, 2010

Interview with Amilyn Gordon, spokeswoman for Jim Huffman, Sept. 21, 2010

E-mail statement from Jake Weigler, campaign manager for Ron Wyden, Sept. 22, 2010
Browse the Truth-O-Meter
More by Ian K. Kullgren
Support independent fact-checking.
Become a member!
In a world of wild talk and fake news, help us stand up for the facts.