Stand up for the facts!
Our only agenda is to publish the truth so you can be an informed participant in democracy.
We need your help.
I would like to contribute
The Seattle Times called Patty Murray "a 'prolific sponsor of earmarks.' Patty even defended the 'Bridge to Nowhere.' "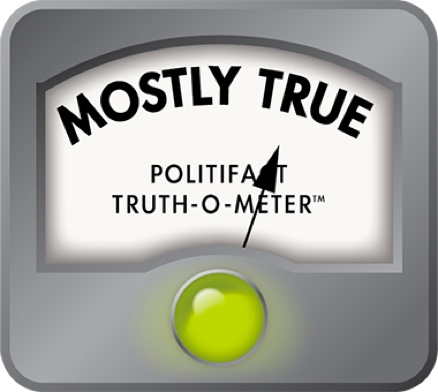 Earmark attack on Patty Murray rings mostly true
The race for the Senate in Washington pits Republican businessman Dino Rossi against Democratic incumbent Patty Murray. Rossi says he wants to reduce government spending and debt, and he's issued an attack ad against Murray on that point.

"Has Washington, D.C., changed Patty Murray? She said she was elected to cut the budget. But now the Seattle Times called her a 'prolific sponsor of earmarks.' Patty even defended the 'Bridge to Nowhere.'"

The ad also attacked her votes on bailing out the financial system and voting for President Barack Obama's health care law. Murray did vote for those bills.

What we wanted to fact-check was whether the charges against Murray on earmarks are accurate. We'll take them in order.

• "The Seattle Times called her a 'prolific sponsor of earmarks.'"

We often find that campaign ads take newspaper quotes out of context to present a misleading impression. But that's not the case here. The quote comes from a reported profile of Murray that ran on the newspaper's front page on Oct. 3, 2010.

The article describes Murray as a hard worker who presents issues in common terms that people can understand and a congenial legislator who is willing to work with Republicans to get things done. But she is not known for authoring major legislation or giving lofty speeches. Instead, her seat on the Appropriations Committee has been the springboard for her accomplishments, according to the story.

"Her keenest impact has come from tapping federal coffers to benefit workers and programs.

"She has helped direct federal money to build Sound Transit light rail, clean up the Hanford nuclear reservation, repair the Howard Hanson Dam, pay for ferries and construct and repair countless miles of roads. She also has funneled billions of dollars to veterans, who have few better advocates in Congress."

The story concludes by noting Murray's penchant for earmarks.

"Perhaps Murray's starkest transformation has been her emergence as an unapologetic -- at times even defiant -- dispenser of federal dollars.

"During her first year in the Senate, she defended her frequent votes to reduce the Clinton administration's spending requests by saying, 'I wasn't elected to bring home the bacon. I was elected to cut the budget.'

"Murray since has become a prolific sponsor of earmarks, grants awarded at the behest of individual lawmakers to favored groups and companies. Her office churns out seemingly ceaseless news releases touting millions upon millions of taxpayer dollars she helped win for projects in Washington state.

"The question for Murray now is how her brand of purse-string politics will play out with an electorate squeezed by the worst recession in 80 years."

So Rossi's use of the quote in his ad is a fair excerpt of news coverage.

Additionally, we checked with Taxpayers for Common Sense, a nonpartisan group that works to publicize and reduce earmarks, on Murray's record. Its 2010 database of earmarks showed Murray won or helped win 187 earmarks worth $219.5 million. Out of 100 senators ranked for the amount of earmark money they garnered, Murray ranked ninth.

• "Patty even defended the 'Bridge to Nowhere.'"

Ah, the Bridge to Nowhere. It was a 2005 project that brought infamy to earmarks: The Alaska bridge was intended to connect the tiny city of Ketchikan to Gravina, an island with just a few dozen residents and an airport, at a cost of nearly $400 million. Taxpayers for Common Sense derisively nicknamed the earmark the Bridge to Nowhere, and it became a national symbol of federal pork-barrel spending.

Faced with an uproar, a congressional committee directed that the $225 million earmarked for the bridge be sent to the Alaska Department of Transportation without stipulating that it be used for the bridge. It didn't get built, but the bridge was still an issue in the 2008 election. (We reported fact-checks about how Barack Obama voted on it as a senator and how Sarah Palin handled it as Alaska governor.)

The question for us now is, did Murray defend the bridge earmark? News stories led us to the Congressional Record and a series of debates that took place on the Senate floor on Oct. 20, 2005.

Sen. Tom Coburn, R-Okla., an opponent of the earmark process, decided to highlight the bridge and other earmarks by proposing a series of amendments that would send the money for those projects to other projects intended to help the victims of Hurricanes Katrina and Rita. One of the projects was the Alaska bridge; another was an earmark for a sculpture park for Seattle, Wash.

"Let us find our will," Coburn said. "No more low-priority projects in the face of half-trillion-dollar deficits, no more exorbitant bridges to nowhere.  Speaking of bridges, that is where this Congress will be, on a bridge to nowhere if we do not gain control of ourselves."

Murray responded on the Senate floor to oppose all of Coburn's amendments, offering a no-holds-barred defense.

Murray said that senators knew better than "bureaucrats sitting in Washington, D.C." about what projects needed funding in states around the country.  "I am out in every community, talking to people, listening to them," Murray said. "It is my job to be their partner in that. I tell them that all the time. You get it going on the ground here, you develop the projects, you get the consensus within your own communities, and I will do what I can to get some small part of help from the federal government. That is how I, like most senators in the Senate, am sent projects. ...

"Today, the senator from Oklahoma has targeted another project that I sat down and discussed with local community leaders. I didn't come up with this. This came from the heart of my local community because they are working very hard in an urban core in the city of Seattle to turn a brownfield into a hub of activity. It is a project that is stimulating jobs and investments," Murray said.

"If the senator from Oklahoma wants to look for a culprit for the fiscal situation in this country, he should look into the billions and billions of dollars in tax cuts that have been granted to multimillionaires in this country, and he should look at additional tax cuts his party wants to implement in future years if he wants to find incredible savings."

Murray didn't mention the Alaska bridge, but she said she opposed his amendment for the Seattle project as well as "the numerous other amendments he has filed with the same type of philosophy, as he calls it, in the Senate." That would logically include the Alaska bridge project, which was being discussed.

"I hope the Senate will not go down the road of cherry-picking individual projects that senators have come to us and have championed on behalf of their constituents who do not live here in Washington, D.C.," Murray said. "I hope we do not go down the road deciding we know better than home state senators about the merits of the projects they bring to us."

Coburn, we should note, disagreed with Murray's logic that earmarks are a needed corrective for too much bureaucracy. "If we have a problem with the bureaucracy, we have all the power in the world to change that. We have the power right here to change that," Coburn said. "So we can either change the bureaucracy so it reflects the views of the people of this country, or we can go about it the wrong way and have to control it by taking a very small percentage of the budget. We get two bad results from that. We get poor priorities. And, No. 2, we are not doing our job in controlling the bureaucracy."

We should note that we called and e-mailed both the Rossi and Murray campaigns about this ad, but didn't hear back from either campaign.

Getting back to our ruling, we're checking two points here about earmarks. Rossi's ad said that the Seattle Times called her a 'prolific sponsor of earmarks.' " That comes from a reported story and is a fair summary of one of the points in the story, and it's a fair summary of the newspaper's findings on Murray's record on earmarks. The ad also said Murray "even defended the 'Bridge to Nowhere.'" Murray didn't specifically defend that project, although it was very clear that she felt like the bridge and other earmarks being discussed on the Senate floor should be left alone. We find Rossi's statements Mostly True.
Dino Rossi campaign, "Changed" ad, Oct. 12, 2010

U.S. Senate, Emergency Economic Stabilization Act of 2008, Oct. 1, 2008

U.S. Senate, Patient Protection and Affordable Care Act, Dec. 24, 2009

U.S. Senate, Committee on Appropriations, Subcommittee on Transportation, Housing and Urban Development, and Related Agencies

The Seattle Times, Sen. Patty Murray: suburban mom to D.C. power broker, Oct. 3, 2010

Congressional Record, speeches on earmark amendments, Oct. 20, 2005
Browse the Truth-O-Meter
More by Angie Drobnic Holan
Support independent fact-checking.
Become a member!
In a world of wild talk and fake news, help us stand up for the facts.