Stand up for the facts!
Our only agenda is to publish the truth so you can be an informed participant in democracy.
We need your help.
I would like to contribute
John Raese's wife "is registered to vote in Florida so she can't even vote for him."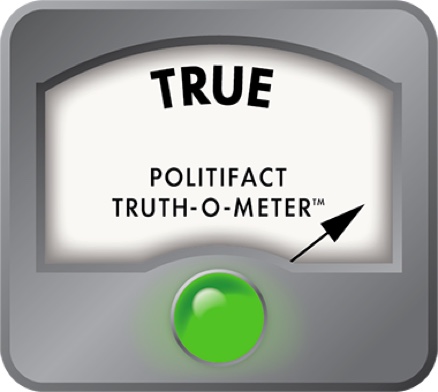 Joe Manchin attacks John Raese for wife registered to vote in Florida
In what's becoming a familiar story, a longtime public official is facing a significant threat from an upstart challenger. In this case, the race is for the U.S. Senate seat for West Virginia formerly held by the late Robert Byrd, a Democrat. Gov. Joe Manchin, also a Democrat, was considered the favorite, but John Raese, a Republican businessman, has been showing strength in the polls.

So Manchin recently released a harsh attack ad against Raese. Here's how it goes:

"John Raese thinks we're hicks. His people hired actors from Philadelphia to attack Joe Manchin and told them to dress 'hicky.' It's insulting and he didn't even apologize. Then there's the fact Raese moved his family to Florida to avoid paying West Virginia taxes. Obviously, we're not good enough for him. Raese's wife is registered to vote in Florida so she can't even vote for him. Why should we?"

There's a lot to unpack there. Let's start with the "hicky" charge before moving onto our fact-check.

The "hicky" incident arose from an attack ad against Manchin that the National Republican Senatorial Committee put together. The ad shows three men in a diner talking about how they don't want to vote for Manchin because he would support President Barack Obama. The men are wearing flannel shirts and trucker hats, but other than that, it seems like a straightforward "man on the street" type of ad.

The controversy came when Politico reported on the advertisement looking for actors in Philadelphia to portray the men at the diner.

"We are going for a 'Hicky' Blue Collar look," read the casting call for the ad. "These characters are from West Virginia so think coal miner/trucker looks."

"Clothing Suggestions" included jeans, work boots, flannel shirt, denim shirt, "Dickie's type jacket with t-shirt underneath," down-filled vest, "John Deer [sic] hats (not brand new, preferably beat up)," "trucker hats (not brand new, preferably beat up)," according to Politico. Several days after those descriptions came to light, the NRSC fired the firm that was responsible.

We weren't as interested in the 'hicky' controversy as we were in the claims about Raese's Florida connections. We asked the Raese campaign for a response, but we didn't hear back. So we started by checking the voter registration rolls in Florida, which are public records.

We quickly determined that Raese's wife, Elizabeth Raese, is registered to vote in Palm Beach County. She has been registered since 2001 and last voted in the 2008 election, according to the Palm Beach County Supervisor of elections.

We also cross-checked her address with the Palm Beach County Property Appraiser. Property records indicate Elizabeth and John Raese own a 6,934 square foot home purchased in 1999 and with a market value of $2.67 million. The 2010 record also shows that the Raese's receive a homestead exemption, which indicates that the home is an owner's primary residence.

We spoke with officials at the Palm Beach County Property Appraiser's office. They confirmed that the Raese's did qualify for the exemption for the 2010 tax year, and that Elizabeth Raese is registered to vote in Florida and holds a Florida driver's license. John Raese is listed as "owner non-resident" in the appraiser's records. The officials confirmed that it's possible for a married couple to jointly own property and claim an exemption when only one spouse is the Florida homeowner.

It might seem strange to have a spouse who is an official resident of a state different from your own, but the Raese's wealth may account for the arrangement. Raese's campaign biography states, "Despite a long list of business accomplishments throughout a lifetime, John is most proud of his family – wife Liz and two wonderful daughters Jane and Agnes. Liz is the founder of the Conservative Women of West Virginia, a growing group of activists charting a conservative path for the Mountain State." (Press reports indicate his children attend a private Christian school in Florida.)

The ad further states that "Raese moved his family to Florida to avoid paying West Virginia taxes." Florida does not have a personal income tax and West Virginia does, but this claim is impossible for us to check: Tax information is confidential unless a candidate chooses to release it. Raese hasn't done that.

But a campaign spokesman told the Charleston Gazette that Raese does pay taxes in West Virginia. "John Raese is a West Virginia resident. Period. He pays income and property taxes there, and any attempts to claim otherwise are acts of desperation by a hopelessly listing campaign," said spokesman Kevin McLaughlin.

The Gazette also reported that Raese owns a home in Morgantown, W. Va., listed on the National Register of Historic Places, and that he is registered to vote in Monongalia County.

Raese has run for office before and had his residency questioned by opponents. But Raese's campaign biography and independent press reports indicate that he is a longtime West Virginia resident. He serves as president and CEO of Greer Industries, a steel and limestone company founded by his grandparents and headquartered in Morgantown, W. Va.

Manchin's ad tries to make voters question Raese's loyalty to West Virginia. It's hard to make a case that Raese isn't someone with longtime ties to West Virginia. On the other hand, it's true that his wife is registered to vote in Florida, and that's the fact we're checking here. Public records confirm she is registered to vote in Florida and receives a homestead exemption on her property. So we rate Manchin's statement True.
Joe Manchin campaign, 'Hicky' ad, Oct. 8, 2010

Politico, GOP ad casting call: 'hicky' W.Va. look, Oct. 7, 2010

WSAZ, report on "Hicky" casting call, Oct. 8, 2010

Charleston Gazette, 'Hicky' ad gains national attention, still angers critics, Oct. 10, 2010

Charleston Gazette, Raese spokesman defends Fla. connection, Oct. 6, 2010

Politico, Raese's riches in West Virginia, Florida, Sept. 24, 2010

Database of Florida registered voters, Florida Department of State Division of Elections, July 26, 2010

Interview with Susan Bucher, Palm Beach County Supervisor of Elections, Oct. 14, 2010

Interview with Carol Wright, public information officer for Palm Beach County Property Appraiser's Office, Oct. 14, 2010

Charleston Daily Mail, Raese keeps to self outside of political arena, Oct. 14, 2010
Browse the Truth-O-Meter
More by Angie Drobnic Holan
Support independent fact-checking.
Become a member!
In a world of wild talk and fake news, help us stand up for the facts.