Stand up for the facts!
Our only agenda is to publish the truth so you can be an informed participant in democracy.
We need your help.
I would like to contribute
Delaware Democratic Senate candidate Chris Coons "thought that a 911 call should be taxed."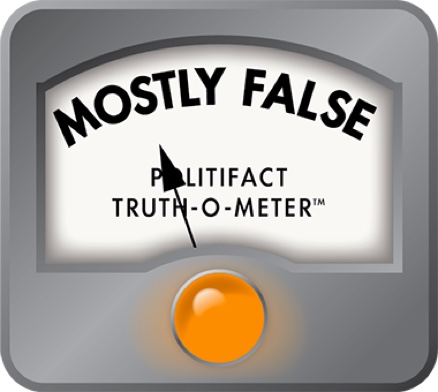 Christine O'Donnell attacks Chris Coons for raising taxes to fund 911 in spooky new ad
Ever since she won the primary on Sept. 14, 2010, Christine O'Donnell, the surprise Republican nominee for a Senate seat from Delaware, has been the center of media attention -- from Real Time with Bill Maher to Saturday Night Live. An ad released on Oct. 11 paid for and authorized by Friends of Christine O'Donnell, seeks to turn the focus on her  opponent, Democrat Chris Coons.

In a minute-long ad featuring dark, horror-movie visuals and spooky music, O'Donnell portrays Coons -- the county executive of Delaware's populous New Castle County -- as a roving psychopath that she dubs "The Taxman." Coons, the narrator intones, "is taxing everything out here."

The ad makes several charges about Coons raising specific taxes. We'll take up one claim in another item -- that Coons proposed hiking property taxes by about 50 percent. This article will focus on a claim regarding taxes for 911 emergency service. Efforts to reach the O'Donnell campaign were unsuccessful.

The ad phrases this claim in two slightly different ways. The narrator says that Coons "thought that a 911 call should be taxed." And as the narrator says that, the screen shows the text: "Proposed a 911 Cell Phone Fee."

Before we critique the ad's accuracy, let's provide some background on the financing of 911 services, provided by Brian Fontes, the chief executive of the National Emergency Number Association, the group that represents 911 call centers and the vendors who service them.

In theory, 911 services can simply be funded through a jurisdiction's general tax revenues, and in some places that is what's done. But more commonly, jurisdictions use either a tariff (that is, a levy approved by a telephone regulatory commission) or a fee (a levy often approved by an elected body such as a city council, a county council or a state legislature).

Either way, the tariff or the fee appears as a line item on a customer's phone bill. Typically, users will see a standard amount assessed each month on any phone registered in a given jurisdiction. Fontes said that these levies tend not to be officially referred to as a "tax," but we think it's fair for O'Donnell to characterize it that way, since we expect most people wouldn't know what a 911 "tariff" is.

As cell phones have become more common, they have overtaken land lines in the number of calls made to 911. That is especially true now because most cell phones can electronically route a call directly to the appropriate local 911 line, even if the phone is registered out of state. Nationally, Fontes said, cell phones make about 60 percent of 911 calls, and that percentage is growing by the year.

In a 2007 story, Delaware's biggest newspaper, the Wilmington News Journal, quoted Dave Roberts,
New Castle County's chief of emergency communications, saying that instead of getting "one or two calls on an incident on the turnpike, now we get 20 to 30 calls," he said. "When people see an emergency like that, they want to play their part." It's helpful, Roberts added, because some witnesses will have information that others missed, such as the color or model of a fleeing car.

This has had an impact on how jurisdictions pay for 911 services. Since cell phones are a relatively recent invention, jurisdictions have had to write new laws or regulations to finance 911 calls through levies on cell phones, rather than just longstanding 911 fees on landlines.

That's what happened in New Castle County in 2007.

In early 2007, when Coons was assembling his county's budget proposal, he told the Wilmington News Journal in a March 17, 2007, article that "he plans to approach the General Assembly this spring for authority to create new revenue streams, such as a hotel tax, a 911 cell-phone fee and a paramedic-service fee." (Coons wouldn't have been able to implement the fee on his own -- it needed approval of the state legislature.)

Later News Journal stories elaborated on the details. Coons wanted to increase the existing 911 excise tax on landlines from 60 cents a month to $1.00 and to impose, for the first time, a $1.00 monthly excise tax for 911 on cell phones. The newspaper quoted estimates that this could raise $3 million a year. The law passed in 2007.

So where does O'Donnell's ad fit into this?

The ad is correct that Coons proposed a tax to fund 911 services. But it adds some layers of obfuscation to this grain of truth.

First, the ad is misleading when it implies that Coons strode into a tax-free oasis of 911 service and decided to impose a tax for the first time. Landlines had long been taxed to support 911 service. What Coons did was extend the tax to cell phones after their use to call 911 surged.

Second, and probably more important, the ad is misleading about what exactly Coons proposed to do. The ad says that Chris Coons "thought that a 911 call should be taxed." We think most people would understand that to mean that every time they dialed 911, they would be hit by a tax. But that's not the case. Instead, Coons' proposed tax would have been a monthly levy on each user's bill, regardless of whether someone called 911 or not. No one needed to worry that calling 911 to help an injured motorist on the highway would lead to a special fee on their next phone bill.

 O'Donnell's ad twisted the details of a proposed 911 levy to fit her image of Coons as an insatiable tax monster. Yes, he proposed a tax, but for a service on which other phones already were being taxed. And Coons most certainly did not propose taxing individual 911 calls. We rate the claim Barely True.
Editor's note: This statement was rated Barely True when it was published. On July 27, 2011, we changed the name for the rating to Mostly False.
Friends of Christine O'Donnell, "Chris Coons the Taxman" (ad), Oct. 11, 2010
Friends of Christine O'Donnell, "Coons the Taxman" website, accessed Oct. 13, 2010
Wilmington (Del.) News Journal,
"Tax hike, deep cuts in store for NCCo," March 17, 2007 (accessed via Lexis-Nexis)
Wilmington (Del.) News Journal, "17 percent tax hike proposed for NCCo
," March 21, 2007 (accessed via Lexis-Nexis)
Wilmington (Del.) News Journal, "Cash-strapped NCCo turns to Wilmington," March 22, 2007 (accessed via Lexis-Nexis)
Wilmington (Del.) News Journal, "Phone tax proposed to pay for
911 call centers," April 6, 2007 (accessed via Lexis-Nexis)
Ron Williams, "Using telephone bills to raise tax income is sneaky" (column in the Wilmington (Del.) News Journal), April 15, 2007 (accessed via Lexis-Nexis)
Interview with Brian Fontes, CEO of the National Emergency Number Association, Oct. 13, 2010
E-mail interview with Daniel F. McElhatton, spokesman for the Chris Coons for Senate campaign, Oct. 13, 2010
Browse the Truth-O-Meter
More by Louis Jacobson
Support independent fact-checking.
Become a member!
In a world of wild talk and fake news, help us stand up for the facts.