Stand up for the facts!
Our only agenda is to publish the truth so you can be an informed participant in democracy.
We need your help.
I would like to contribute
Electric utility FirstEnergy's annual revenues are greater "than the GDP of Haiti, Kyrgyzstan, Iceland, or 15 African nations."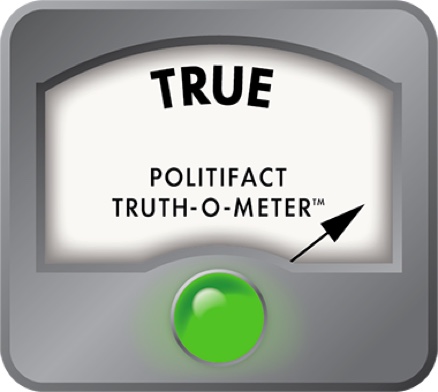 Rep. Marcy Kaptur chides FirstEnergy rate plan, noting annual revenues top many nations' GDP
Roughly 361,000 electrically heated Ohio households were shocked last year when Akron-based FirstEnergy began phasing out discounted rates it had provided for decades to "all electric" customers whose households run exclusively on electricity.

FirstEnergy has said those customers need to pay the actual costs for the services they receive, and the longtime discounts can't continue because of electricity deregulation and new conservation mandates, The Public Utilities Commission of Ohio took up the issue after some families complained of doubled electricity bills, and has held hearings on the subject throughout the state.

At an Oct. 25 hearing in Sandusky, Toledo Democratic Rep. Marcy Kaptur told PUCO the discounts should remain, and noted they were part of a longtime all-electric marketing scheme in which the company agreed to provide lower rates to customers who forfeited alternative utility choices.

As part of her statement, Kaptur asked: "Are we to believe that a corporation such as FirstEnergy, with annual revenues of approximately $1 billion -- that's a thousand million dollars a year, more than the GDP of Haiti, Kyrgyzstan, Iceland, or 15 African nations -- are we to believe that such a giant corporation cannot afford to keep its promises to senior citizens and working families in all-electric homes and apartments?"

Do FirstEnergy's revenues actually exceed the gross domestic product of so many countries? We decided to do some digging.

FirstEnergy's most recent annual report says its total revenue for 2009 was nearly $13 billion, down from $13.6 billion in 2008. Kaptur's $1 billion statement significantly understates the company's yearly revenues, but she's correct to state those revenues exceed the gross domestic product of many countries.

According to statistics compiled by the World Bank, FirstEnergy's yearly revenues are greater than the 2009 gross domestic products of 85 nations including Iceland ($12.1 billion) Haiti ($6.7 billion) and the Kyrgyz Republic ($4.6 billion). It's also higher than the gross domestic product for 29 African countries: Zambia, Botswana, Gabon, the Democratic Republic of the Congo, Equatorial Guinea, Mozambique, Namibia, Madagascar, Mali, The Republic of the Congo, Mauritius, Burkina Faso, Chad, Benin, Niger, Rwanda, Malawi, Guinea, Mauritania, Swaziland, Togo, Central African Republic, Sierra Leone, Lesotho, Liberia, Seychelles, The Gambia. Comoros, and Sao Tome and Principe.

FirstEnergy spokeswoman Ellen Raines said the company's $13 billion yearly revenue doesn't reflect what it pays for expenses like taxes, infrastructure maintenance, electricity generation, and employing 14,000 workers.

"We have a vast and complex infrastructure that is used to provide electric service to 4 ½ million customers," said Raines. "We invest every day in helping ensure that service is safe and reliable."

FirstEnergy is committed to finding a resolution to the electricity rate issue that is "fair to all our customers," said Raines, adding that said current rates for all-electric homes will continue through the winter heating season.

Asked why Kaptur said FirstEnergy's yearly revenues are $1 billion instead of $13 billion, Kaptur spokesman Steve Fought took the blame. He said he did the research and intended to write that the company's monthly revenue, not yearly revenue, was $1 billion.. After The Plain Dealer inquired about the discrepancy, he corrected the version of the statement that appears on Kaptur's website.

"I have to take responsibility for that," said Fought. "Looking back on it, I wish I had just referred to FirstEnergy's annual revenues instead of trying to break it into a billion dollars a month. In trying to make the numbers more understandable, I succeeded only in making them more confusing."
Fought said Kaptur's point is still valid despite the mistake: "FirstEnergy has plenty of money to keep their promises to all electric customers."

PolitiFact Ohio isn't in the business of playing "Gotcha!" We recognize sometimes people can misspeak. Her staff had the correct revenue number, and Kaptur's mistake certainly didn't lead to exaggeration. In fact, she understates the number of countries that have smaller GDP. Her underlying point, that FirstEnergy has sizable annual revenue, is accurate.

So we're not downgrading her on the Truth-O-Meter. We rate Kaptur's claim as True.
The Plain Dealer, "State regulators want your help in solving problem of who should pay for all-electric homes," Oct. 16, 2010

The Plain Dealer, "All-electric customers plead for permanent FirstEnergy discount at hearing in Strongsville," Oct. 29, 2010

Rep. Marcy Kaptur, statement to the Public Utilities Commission of Ohio, October 25, 2010

FirstEnergy's 2009 annual report

World Bank Development Indicators database, September 27, 2010

Interview with Kaptur spokesman Steve Fought, Nov. 9, 2010

Interview with FirstEnergy spokeswoman Ellen Raines, Nov. 9, 2010
Browse the Truth-O-Meter
More by Sabrina Eaton
Support independent fact-checking.
Become a member!
In a world of wild talk and fake news, help us stand up for the facts.