Stand up for the facts!
Our only agenda is to publish the truth so you can be an informed participant in democracy.
We need your help.
I would like to contribute
"Individuals and small businesses will be hit by increases in health insurance premiums as high as 39 percent."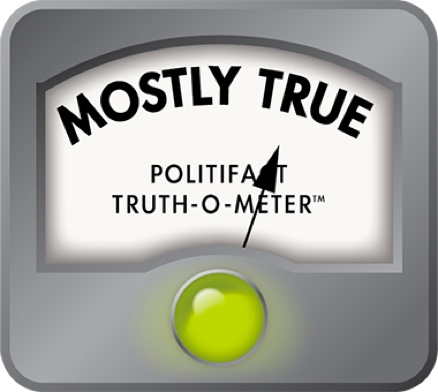 Americans United for Change says health insurance premiums for individuals and small businesses will increase up to 39 percent without health care reform
Seeking support for health care reform, the liberal advocacy group Americans United for Change launched a phone campaign March 3 urging Americans to stand up to health insurance companies.

The Washington-based group was formed in 2005 to challenge President George W. Bush's efforts to privatize Social Security and has since broadened its scope to build public and congressional support for a variety of policy initiatives, including health care.

Austin American-Statesman reporter Mary Ann Roser, who analyzed the call on her health blog, was one of 3.5 million voters nationwide who heard the recorded message: "I am calling from Americans United for Change. You've seen the news. Individuals and small businesses will be hit by increases in health insurance premiums as high as 39 percent. Insurance companies deny our claims, drop us when we're sick and pay their CEOs huge bonuses. Now they want a 39 percent increase . . . Enough of this greed. It's time to stand up to health insurance companies. Pass health care reform. Call Congress at 202-225-3121."

We looked at whether premiums are increasing nearly 40 percent for individuals and small businesses — and whether the robocall's ominous warning is warranted.

The group's communications director, Jeremy Funk, pointed us to a report by U.S. Department of Health and Human Services admonishing Anthem Blue Cross, the California affiliate of insurer WellPoint Inc, for plans to raise its premiums. Earlier, Anthem notified about 800,000 customers who buy individual insurance policies that their premiums would go up as much as 39 percent on March 1.

At the request of the California Department of Insurance, WellPoint postponed the premium hikes until May 1 to allow the department additional time for review. WellPoint said: "Our decision to agree to postpone the rate adjustment does not change the underlying issue. All health plans are in the same situation in trying to deal with the steadily increasing medical costs in the delivery system, which are not sustainable."

The HHS report cites companies that requested permission to raise health insurance premiums in five states last year, proposing increases of 16 percent to 56 percent.

They didn't necessarily succeed. Anthem of Maine requested an 18.5 percent increase; that state allowed 10.9 percent. In Michigan, Blue Cross Blue Shield raised rates 22 percent after requesting premium increases of 56 percent for some policyholders. And this year, insurers in Massachusetts asked for premium hikes of 8 to 32 percent.

Most states regulate what companies charge their residents for health insurance. But in Texas, the majority of life, accident and health insurance rate hikes are never filed with the Texas Department of Insurance, according to the Texas Sunset Commission. Except for Medicare supplemental insurance, no prior state approval is needed to increase health insurance premiums.

However, health insurers are required to file rate increases that affect people who buy their own health insurance — about 4 percent of all Texans — but the filing is mostly for informational, not regulatory purposes. Most everyone else is either uninsured or covered by Medicaid, Medicare or employer-provided health insurance, none of which the state regulates.

State law holds that insurance rates in Texas must be just, fair, reasonable, adequate, not confiscatory, not excessive and not unfairly discriminatory. The department can contest rates for individual plans that don't comply, according to John Greeley, a public information officer at the department. So far it hasn't.

So how do Texas rates stack up for individuals and small businesses, per the focus of Americans for United Change's claim?

Katrina Daniel, senior associate commissioner at the state insurance department, said Blue Cross Blue Shield of Texas filed 60 rate increases for individual policyholders from January to October 2009 ranging from 3 percent to 25 percent. UniCare filed increases up to 11 percent.

Since the state doesn't regulate employer-sponsored insurance, we went looking for some specific examples. Tom Banning, CEO of the Texas Academy of Family Physicians, said Blue Cross Blue Shield of Texas raised premiums 21 percent to provide coverage for the organization's 12-member staff. And Lydia Hegl, vice president at insurance brokerage firm Texas Benefit Solutions, said she's seen premium hikes from 10 to 30 percent for small groups, meaning companies with less than 50 employees.

On the Texas Association of Health Underwriters Cafe, an e-mail forum that "allows agents, brokers and carrier to discuss topics ranging from, "How do I...?", to legislative issues that affect the future of health care," we found people discussing premium increases from 15 to 58 percent.

Michael Lee, an agent at MLee Insurance, writes: "Every (customer) renewal I have had this year through April are running 30 percent to 40 percent. Even groups that are young healthy males. Am I just getting this preferred treatment or is anyone else seeing this?"

From that testimony, it looks like at least some Texans will be paying higher premiums, comparable to the 39 percent increase cited by Americans for United Change.

But what about the implicit message of the organization's robocall: That the health care changes sought by President Obama will prevent such rate hikes?

On Nov. 30, the Congressional Budget Office, a nonpartisan arm of Congress that analyzes legislation, estimated that under the Senate's version of the health reform plan, most people's premiums will stay the same or decrease slightly by 2016 — especially for the 46 percent of Texans who are insured through their work. Most people who buy their own insurance would be eligible for federal subsidies that would make their premiums drop by more than half. A smaller percentage of the self-insured would see their rates increase 10 to 13 percent, but they would be getting better coverage.

And Drew Altman, president and CEO of the Kaiser Family Foundation, a group that analyzes health care policy, said: "In President Obama's recent health care proposal, he notably improves on the affordability of the Senate health care bill, both in terms of premiums and out-of-pocket costs."

The Urban Institute, another nonpartisan research group, projects that if federal reform efforts fail, individual and family out-of-pocket costs could go up nationwide by more than 35 percent through 2019. In Texas, the institute says, individual and family spending would increase even more — about 58 percent in a best-case scenario, and 80 percent worst-case.

Summing up: Unless the state of California deems Anthem's rate hikes unjustified, thousands of individual policyholders will face premium increases as high as 39 percent. Folks in other states — including Texas — also are experiencing hikes in the double-digits.

Meantime, the CBO projects that most Americans' premiums would decrease under the Senate's health care plan. A tiny minority of individuals who buy their own insurance would pay 10 to 13 percent more, while receiving better coverage.

Of course, all these numbers are just projections and the outcome of the debate over health care reform is uncertain. But given what's known at this point, United Americans for Change's robocall message rings Mostly True.
WellPoint, Press release: Anthem Blue Cross of California agrees to request from California Department of Insurance for Additional Time to re-review rate increase, Feb. 13, 2010

California Department of Insurance, Press release: Insurance commissioner Poizner fights for consumers, calls for postponement of health insurance rate increases for Anthem patients and policyholders, Feb. 8, 2010

Austin American-Statesman, Group using robocalls in Austin to rally support for health care bill, March 4, 2010

U.S. Department of Health and Human Services, Lower premiums, stronger businesses: How health insurance reform will bring down costs for small businesses, accessed March 8, 2010

Kaiser Family Foundation, Congress to investigate 39 percent premium hike by California's Anthem Blue Cross, Feb. 10, 2010

Kaiser Family Foundation, Texas: health insurance coverage of the total population, 2007-2008

Kaiser Family Foundation, When premiums go up 39%, March 10, 2010

Boston Globe, Health insurers seeking rate hike, March 6, 2010

E-mail interview with Stacey Pogue, senior policy analyst, Center for Public Policy Priorities, March 8, 2010

Interview with Linda Carter, benefits consultant, Texas Benefits Solutions, Inc., March 8, 2010

Interview with John Greeley, public information officer, Texas Department of Insurance, March 8, 2010

Interview with Katrina Daniel, senior associate commissioner, Texas Department of Insurance, March 8, 2010

E-mail interview with Tom Banning, CEO, Texas Academy of Family Physicians, March 8, 2010

PolitiFact.com, Health care reform does not increase premiums and boot people out of their coverage, Jan. 28, 2010

The New York Times, State experts see flaw in Obama's plan to curb health premiums, March 8, 2010
Browse the Truth-O-Meter
More by Ciara O'Rourke
Support independent fact-checking.
Become a member!
In a world of wild talk and fake news, help us stand up for the facts.