Stand up for the facts!
Our only agenda is to publish the truth so you can be an informed participant in democracy.
We need your help.
I would like to contribute
In New Mexico, Democratic gubernatorial candidate Diane Denish "spent federal stimulus funds on campaign Christmas cards."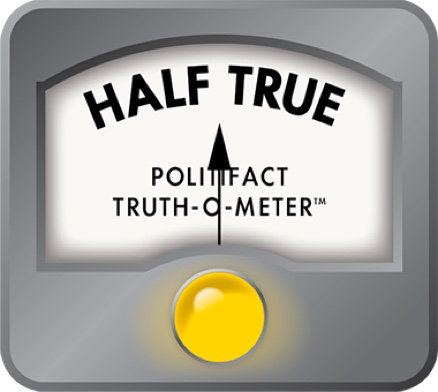 In New Mexico gubernatorial race, Susana Martinez accuses Diane Denish of using federal dollars to pay for Christmas cards
With New Mexico's two-term Democratic Gov. Bill Richardson leaving office later this year, a lively contest to succeed him has broken out between Democratic Lt. Gov. Diane Denish and Republican challenger Susana Martinez.

In a recent ad, Martinez charged, "As jobs were lost, Richardson-Denish wasted millions. ... Denish even spent federal stimulus funds on campaign Christmas cards."

We wondered whether the charge was accurate, and how serious a breach it would be.

The expenditures came to light on Nov. 4, 2009, when the New Mexico Watchdog -- a blog sponsored by the libertarian Rio Grande Foundation -- published an investigation of expenditures from 2003 and 2004, when Denish was lieutenant governor. The blog alleged, and documents from Denish confirm, that Denish used some federal stimulus funds to pay a contract employee. It's worth noting that the stimulus funds in question were not from the bill signed by President Barack Obama in February 2009 but rather from a 2003 bill signed by President George W. Bush. Here's what the Watchdog wrote:

"Lt. Governor Diane Denish used $225,000 in federal funds to pay for a driver to shuttle her to meetings and press events, a contractor to take Christmas pictures and write Christmas cards, a lawyer to make hotel reservations, opinion polling, and public relations services. The money was given to her for 'various projects' by Governor Bill Richardson. The money came from unallocated federal fiscal stimulus funds transferred to the New Mexico treasury under the 2003 Jobs and Growth Tax Relief Reconciliation Act."

Of these expenditures, the most widely noted became the Christmas cards, and we'll focus on that alone, since that's what the ad talks about. (A detailed discussion of the controversy by journalist Heath Haussamen in the New Mexico Independent, including links to original documents, can be found here.)

The Watchdog blog post said that Lauran Cowdrey, one of the contractors who had been paid using the excess federal funds, had filed an invoice, which was eventually paid, for "6 hours at $23.50 per hour on November 22, 2004, detailed in her time sheet as 'taking Christmas pictures, removing decorations, setting up pre-K interviews, organizing speeches and releases for website. On November 24, 2004, Cowdrey billed 8 hours described as 'work on Christmas card, work on history book request.'"

With jockeying for the 2010 gubernatorial election already well under way, several GOP hopefuls, including Martinez, jumped on the allegations. Denish's office immediately responded by providing a bill and canceled check for the Christmas cards, which totaled $3,666.90. The check, dated Dec. 28, 2004, was written on a campaign account rather than using federal funds routed through the state government. So that clears the actual purchase of the cards from any potential federal violation. But that doesn't account for the money paid to Cowdrey to handle the Christmas card project.

Because many public officials are allowed to use taxpayer funds for items such as Christmas cards, we asked the Denish campaign whether these particular cards were considered official business or a campaign project. They said that it was considered a campaign project.

Because of that, it was improper to bill the state for it, ethics experts told PolitiFact. Instead, the campaign should have paid for Cowdrey's efforts or else she could have volunteered her time.

But how big a deal was it that the taxpayers paid for Cowdrey's time working on the project? Our sources agreed: Not big at all.

We estimate that the misallocated fedral funds would have been, at most, $141, or six hours times her $23.50 per hour pay rate. We asked government ethics experts what they thought of such a violation.

"As a practical matter, because the use of the employee's time was essentially incidental, no enforcement authority is likely to get interested this," said Kenneth A. Gross, a former associate general counsel of the Federal Election Commission who is now an attorney with the firm Skadden, Arps, Slate, Meagher & Flom. "If there is a way to reimburse the government, it may be prudent to do so as a political matter."

Holman, of Public Citizen, called the violation "so minor that I would not expect significant penalties, if any. It sounds like a small, careless action. A warning would probably be sufficient."

We should remind readers that there were many allegations in the original Watchdog report that came with bigger pricetags, but we aren't ruling on them in this item. Haussamen noted one case in which Denish decided to reimburse her state office after he published evidence that some of the stimulus funds had been spent on putting out political news releases.

All told, we think the documentation makes clear that Denish spent federal stimulus funds to prepare Christmas cards, and the canceled campaign check justifies the ad calling them "campaign Christmas cards." Even so, our experts agreed that these actions would have produced a monetary loss so small that they would be unlikely to trigger anything beyond a warning and a request for repayment, if that. So we rate the ad Half True.
Susana Martinez for Governor, "Jobs Plan" (ad), July 22, 2010

Scanned image of check from Committee to Elect Diane Denish for printing Christmas cards, dated Dec. 28, 2004

Scanned image of invoice from Lauran Cowdrey for work on Christmas cards, dated Nov. 24, 2004

New Mexico Watchdog, "Denish Used Federal Funds for Personal Driver, Polling and Christmas Cards," Nov. 4, 2009

Santa Fe New Mexican, "GOP Targets Denish on Stimulus Funds," Nov. 4, 2009

New Mexico Independent, "Commentary: Denish's stimulus spending: What's the big deal?" Nov. 6, 2009

Albuquerque Journal, "Report: Denish Spent Federal Bucks on PR," Nov. 5, 2009

NMPolitics.net, "Guv, Lt. Guv spent public money on political news releases," Nov. 10, 2009

Government Accountability Office, summary of "Federal Assistance: Temporary State Fiscal Relief," May 7, 2004

E-mail interview with Heath Haussamen, editor and publisher of NMPolitics.net, July 23, 2010

E-mail interview with Craig Holman, legislative representative with Public Citizen, July 23, 2010

E-mail interview with Kenneth A. Gross, partner with the law firm Skadden, Arps, Slate, Meagher & Flom, July 23, 2010
Interview with Chris Cervini, spokesman for Diane Denish for Governor campaign, July 26, 2010
Browse the Truth-O-Meter
More by Louis Jacobson
Support independent fact-checking.
Become a member!
In a world of wild talk and fake news, help us stand up for the facts.