Stand up for the facts!
Our only agenda is to publish the truth so you can be an informed participant in democracy.
We need your help.
I would like to contribute
Says Rep. Ken Legler "voted against installing fire sprinklers and emergency power generators in nursing homes."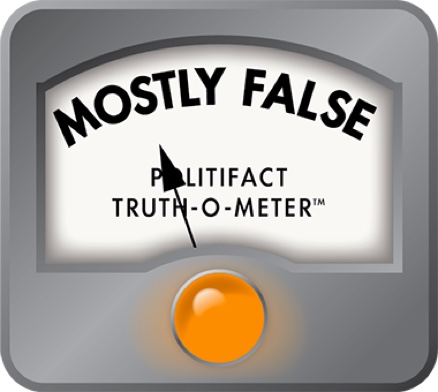 Texas Democratic Party chairman says Rep. Ken Legler voted against installing generators and fire sprinklers in nursing homes
In an e-mail soliciting donations to the Texas Democratic Party, Boyd Richie calls three Texas House members "tone-deaf Republicans whose agendas don't align with Texans' priorities."
"It's time to throw the bums out," the Democratic Party chairman writes in the June 16 blast.
Among the D-designated bums: state Rep. Ken Legler, R-Pasadena, who Richie says "voted against installing fire sprinklers and emergency power generators in nursing homes."
For real? That fired us up.
Kirsten Gray, the party's communications director, pointed us to a supplemental appropriations bill the House voted on in April 2009. During floor action, Rep. Kristi Thibaut, D-Houston, introduced an amendment to earmark state funds for the Department of Aging and Disability Services to determine the need for back-up generators in Texas nursing facilities, establish a priority list of facilities in case the need exceeded available state funds and allocate state aid to purchase and install the generators.
Rep. Carol Kent, D-Dallas, amended the amendment (everyone still with us?) so the study and subsequent installation would also take into account fire sprinklers.
Jennifer Brader, Thibaut's chief of staff, told us Thibaut's amendment was motivated by Hurricane Rita, which she said disrupted electric power at nursing homes on the coast. "After Rita, it was a couple weeks before everyone got their electricity back on," Brader said. "A constituent in the district brought it to Kristi's attention."
The revised amendment, penciling in about $46.7 million for the department to focus on emergency generators and sprinklers, passed 75-66. Legler was recorded as voting "no."
Legler voted for the overall supplemental appropriation act — including the sprinkler amendment — which passed the House 141-5. However, the amendment was subsequently removed by the Senate Finance Committee and did not pass into law.
Legler told us that he voted against the nursing home amendment because it was too vague;  there were "no parameters on how to spend $47 million of taxpayers' money," he said, including no direction on how the department would determine that facilities needed back-up generators.
Legler also said he didn't see the point in appropriating money to make improvements in nursing homes when they would soon have to do so themselves anyway. In August 2008, the Center for Medicare & Medicaid Services had ruled that all nursing homes had to install automatic sprinkler systems by Aug. 13, 2013. Homes are required to pay for the systems, DADS spokeswoman Allison Lowery told us.
According to DADS, there are 1,165 licensed nursing homes in Texas, including 26 that do not have sprinkler systems throughout. In August 2008, 40 homes lacked sprinklers throughout and as of March 2009, shortly before the House voted on the amendment in question, 27 homes didn't have sprinklers throughout.
Lowery said the agency doesn't have a formal plan in place to bring the 26 facilities up to code, but by 2012 facilities will need to show that they're working to comply with CMS — getting bids from contractors to install the sprinkler system, for example. While nursing homes aren't required to have back-up generators, Lowery said, all but a few do, because homes are required by state law to have emergency lighting.
Where does this history leave Chairman Richie's charge?
All told, his statement leaves out a lot.
Legler voted against an amendment that would have paid for DADS to survey which Texas nursing homes needed emergency generators and fire sprinklers and to purchase and install them. At the time of the vote, nearly all Texas nursing homes already had backup generators, according to the state, and more than 97 percent of Texas nursing homes had installed sprinklers. Remaining facilities without sprinklers were facing a federal mandate to follow suit, at their own expense; the amendment could have enabled them to do so at no cost to themselves.
By implying that Legler was an opponent of nursing home safety, Richie's statement painted the situation as far more dire and widespread than it really was.
His statement is Barely True.
Editor's note: This statement was rated Barely True when it was published. On July 27, 2011, we changed the name for the rating to Mostly False.
Texas House Journal pdf, 81st Legislature, regular session, HB 4586, April 17, 2009
Texas Legislature Online, HB 4586 history, last action June 19, 2009
Federal Register, Vol. 73, No. 157, Rules and Regulations pdf, Aug. 13, 2008
Department of Health and Human Services, Nursing home emergency preparedness and response during recent hurricanes, August 2006
Interview with Ken Legler, Texas House representative, June 30, 2010
Interview with Jennifer Brader, chief of staff, Rep. Kristi Thibaut, June 30, 2010
Interview with Allison Lowery, media manager, Texas Department of Aging and Disability Services, July 1, 2010
Browse the Truth-O-Meter
More by Ciara O'Rourke
Support independent fact-checking.
Become a member!
In a world of wild talk and fake news, help us stand up for the facts.