Stand up for the facts!
Our only agenda is to publish the truth so you can be an informed participant in democracy.
We need your help.
I would like to contribute
Who is responsible for helping migrants in Chicago and New York City? Leaders say Biden can do more
If Your Time is short
New York and Illinois have spent tens of millions of dollars in the past year to house and feed asylum seekers in their states.

Most state and local governments are not legally obligated to feed, clothe or house immigrants.

Governors, mayors and business leaders are urging the federal government to expedite work permits for asylum seekers. Local leaders also are asking the federal government for more funding.

Learn more about PolitiFact's fact-checking process and rating system.
It's commonplace for Republicans to criticize President Joe Biden's immigration policies, but recently, some Democratic governors and mayors also have joined the fray. 
New York City Mayor Eric Adams recently announced budget cuts and a city government hiring freeze to offset spending to help the 110,000 migrants who have arrived in the city since spring 2022. He blamed the budget cuts on federal and state governments.
"While our compassion is limitless, our resources are not," Adams said in a Sept. 9 video address to New Yorkers. "We have not received substantial support from the federal or state governments to handle those costs or change the course of this crisis."
Adams is not the only leader sounding an alarm on this issue. Cities across the U.S., such as Chicago, Washington, D.C., and Los Angeles, have received thousands of migrants in the past year. Those places' leaders say feeding and providing shelter to migrants is straining local government resources substantially. New York, Illinois and Massachusetts state and city leaders are urging the federal government to change policies and allocate additional funding to support the rising number of asylum seekers.
Though Democratic New York Gov. Kathy Hochul's administration has sometimes sought to blame Adams' management of the crisis, she also has pressured the Biden administration to do something about it. New York is in "urgent need for the federal government to take executive action and direct significant financial assistance to address this challenge," Hochul said in an Aug. 24 letter to Biden.
Similarly, in Illinois, Gov. J.B. Pritzker and Chicago Mayor Brandon Johnson, both Democrats, have sought federal relief. They urged the Department of Homeland Security to use its authority to allow the nearly 13,000 asylum seekers who have arrived in Chicago since last August to more quickly receive employment authorization. 
"There is no path to success without significant new federal financial support and immigration policy changes," Pritzker and Johnson said in an Aug. 28 joint letter. 
But the White House says the responsibility lies with Congress, which has failed for decades to pass immigration reform legislation.
As the blame game continues, PolitiFact explored state and city obligations to support migrants, what governments have done and what they're requesting.
Thousands of asylum seekers have reached major U.S. cities in the past year
Immigration across the U.S. southern border has reached historic highs during the Biden administration. Stephen Yale-Loehr, a Cornell University immigration law professor, says a migration increase is occurring worldwide "for a variety of reasons, whether it's civil war, or climate change, or persecution or failed states." 
Hundreds of thousands of migrants have settled in U.S. cities since Biden was inaugurated in January 2021. According to recent data from the Syracuse University Transactional Records Access Clearinghouse, most asylum seekers who have recently crossed the border have moved to New York City, Los Angeles and Chicago.
Many migrants make their way on their own to cities of their choosing. But since April 2022, nearly 36,000 asylum seekers have been bused by Texas Gov. Greg Abbott's administration to Democratic-led cities with immigrant-friendly policies, including Washington D.C., New York City and Chicago.
Thousands of migrants also have arrived in Massachusetts, where Gov. Maura T. Healey, a Democrat, also made a request to Homeland Security Secretary Alejandro Mayorkas, similar to the one from Illinois officials, about expediting work permits. 
Under U.S. immigration law, people who reach the U.S. legally or illegally may seek asylum if they can prove they are in danger of persecution if they return to their home countries. 
Asylum seekers usually can't apply for work permits until six months after they've applied for asylum. This waiting period has left thousands of asylum seekers relying on nonprofit organizations and local governments for shelter, food and other needs.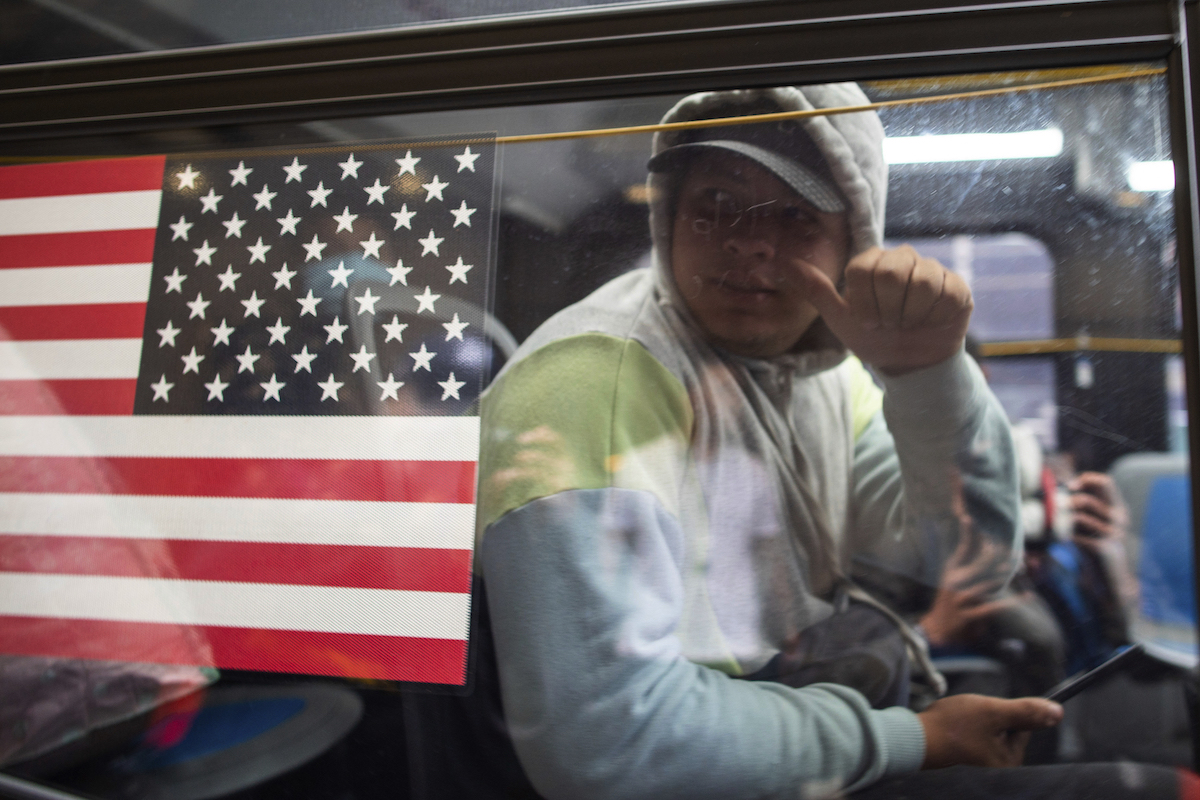 Asylum seekers are seen inside of a bus outside the Roosevelt Hotel, May 19, 2023, in New York. (AP)
Government obligations to support migrants depend on the jurisdiction
State and local governments' legal obligations to take care of migrants vary based on the jurisdiction.
"In general, governments do not have an obligation to feed, clothe or house migrants," said Nicole Hallett, director of the University of Chicago Immigrants' Rights Clinic. "Even if cities and states don't have a legal obligation, they may still decide as a policy matter to provide services to migrants, who otherwise would end up on the streets or in hospitals or relying on overburdened nonprofits and social service organizations."
However, all states are required to provide children with access to public primary and secondary education, regardless of their immigration status. 
And in New York City and Massachusetts, the city and state governments are legally obligated to provide residents with shelter. Failing to do so could lead to lawsuits against the city or the state, Yale-Loehr said. 
In New York City, Adams is seeking a change from city courts in the shelter mandate that would let the city deny shelter to adults if it lacks the resources or capacity. If changed, New York City's mandate would be similar to the one in Massachusetts, which is required to shelter only pregnant women and families with children.  
How have state and local governments supported migrants?
New York City, Chicago, Washington D.C., and Massachusetts have provided shelter for tens of thousands of migrants who have arrived in their communities. 
New York City has opened 200 emergency shelters and is currently housing around 60,000 migrants, Adams said during a Sept. 10 MSNBC interview. Meanwhile, in Hochul's letter to Biden, she said New York also has provided free transportation. 
New York City has spent $1.45 billion on migrant-related costs during fiscal year 2023, which began in October 2022, Adams said. 
In Chicago, around 6,400 migrants of the 13,000 that have arrived to the city in the past year are being housed in 18 temporary shelters, according to the city's government. Close to 2,000 others are staying in police stations and at O'Hare International Airport awaiting permanent placements. Chicago's mayor recently announced a plan to move some migrants to large winterized tents, similar to tents housing migrants across New York City. 
Chicago and Illinois have spent more than $250 million to support asylum seekers, Johnson and Pritzker said in an Aug. 28 letter to Mayorkas. 
Washington D.C., which has received the largest number of migrants from the Texas buses, has given temporary shelter to at least 2,000 migrants and has spent close to $40 million, according to Axios.
Massachusetts has more than 20,000 migrants in shelters, and Healey said supporting migrants is costing the state $45 million every month.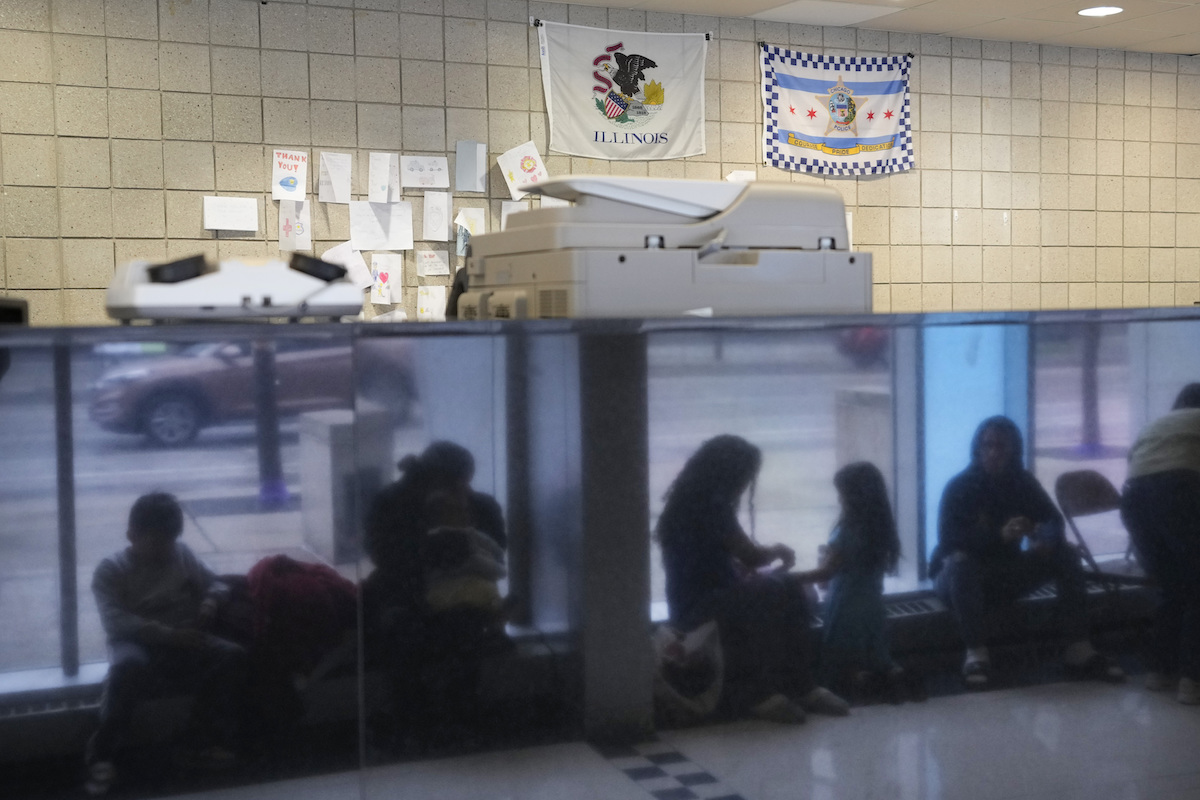 Immigrants from Venezuela are reflected in a marble wall while taking shelter at the Chicago Police Department's 16th District station, May 1, 2023. (AP)
What are local and state governments requesting? 
Local and state leaders are turning to the federal government for additional funding and policy changes they say would alleviate their problems. The Biden administration has allocated hundreds of millions of dollars to cities supporting migrants, but state and local leaders say it hasn't been enough. 
The Federal Emergency Management Agency has allocated nearly $800 million through its Shelter and Services Program to aid cities supporting migrants. In August, the Biden administration requested an additional $600 million from Congress.
New York has received $140 million of that funding and Chicago has received $45 million, The New York Times reported. In August, Healey announced that Massachusetts received $1.9 million from FEMA. 
Besides requesting additional funding, members of Congress, governors, mayors and business leaders have urged the Biden administration to expedite asylum seekers' access to work authorization. 
"If migrants could work, they would not be nearly as big of a drain on city resources and most of them want to work," said Hallett, of the University of Chicago Immigrants' Rights Clinic. 
Hochul, in her letter to Biden, said his administration could use two methods to expedite work permits: humanitarian parole, which allows people to immediately apply for work permits; and Temporary Protected Status, which allows immigrants from certain countries to live and work in the U.S. temporarily.
In Massachusetts, Healey said Biden's administration should allow work permit application receipts to be considered as provisional employment authorization documents. 
However, proposals such as these could prompt legal challenges. Twenty Republican-led states have already sued the Biden administration over its use of humanitarian parole in a program available to eligible immigrants from Venezuela, Cuba, Haiti and Nicaragua. 
The Biden administration hasn't addressed whether it will consider new policies to expedite work permits for asylum seekers. However, the administration launched a national campaign to encourage people who are already eligible to apply for work permits.
After meeting with Hochul, the administration started sending migrants emails and text messages with information about how to apply for work permits. The White House pointed out that a "substantial number of recent migrants who arrived in New York City are currently work eligible but have not yet applied to get a work permit." 
Yale-Loehr, the Cornell University immigration law professor, said he doesn't foresee a quick or easy solution. 
"It's a complex problem, and we need a whole of government approach to try to figure this out." Yale-Loehr said.
Official Website of the City of New York, Amid Deepening Asylum Seeker Crisis, Mayor Adams Announces New Steps to Stabilize City's Budget as Required by Law, Sept. 9, 2023
New York City's Mayor Office, Mayor Eric Adams Speaks to New Yorkers About New Steps to Stabilize City's Budget as Required By Law, Sept. 9, 2023
The New York Times, Scathing Letter Reveals Tension Among New York Democrats Over Migrant Crisis, Aug. 16, 2023
New York Governor, Letter, Aug. 24, 2023
Chicago Office of the Mayor, Joint Letter From Mayor Brandon Johnson And Governor JB Pritzker Calling Upon The Federal Government To Streamline Work Authorization For Non-citizens When States Demonstrate A Public Benefit And Critical Workforce Shortages, Aug. 28, 2023
CNN, White House defends response to asylum seeker influx following criticism from New York governor, Aug. 25, 2023
NBC News, Congress has failed for more than two decades to reform immigration — here's a timeline, Jan. 7, 2023
U.S. Customs and Border Protection, Nationwide Encounters, accessed Sept. 14, 2023
Transactional Records Access Clearinghouse, Top County Destinations for Asylum Seekers, June 21, 2023
Office of the Texas Governor, Operation Lone Star Defends Sovereign Authority To Secure Border, Sept. 8, 2023
The Texas Tribune, Gov. Greg Abbott says Texas is now busing migrants to New York City, Aug. 5, 2022
NBC News, Texas Gov. Greg Abbott promises to keep busing migrants to Democratic cities, May 1, 2023
Office of the Governor of the Commonwealth of Massachusetts, Letter, Sept. 7, 2023
U.S. Customs and Immigration Services, Asylum, accessed Sept. 14, 2023
US Department of Education, Educational Services for Immigrant Children and Those Recently Arrived to the United States, accessed Sept. 14, 2023
Bloomberg, What Ending 'Right to Shelter' Could Mean for New York City's Homeless Population, June 2, 2023
Boston Globe, 'Right-to-shelter' law is unique to Massachusetts. It has a long history., Aug. 8, 2023
The New York Times, New York City Asks for Relief From Its Right-to-Shelter Mandate, May 23, 2023
New York City's Mayor Office, Mayor Adams' Statement on New York City's Right to Shelter Law, May 23, 2023
CommonWealth Magazine, Right to shelter: Is it a migrant magnet?, Aug. 28, 2023
New York City's Mayor Office, Transcript: Mayor Adams Appears Live on MSNBC's "The Sunday Show With Jonathan Capehart", Sept. 10, 2023
New York City's Mayor Office, As City Nears Arrival of 100,000 Asylum Seekers Since Last Spring, Mayor Adams Lays out Updated Costs if State and Federal Governments do not Take Swift Action, Aug. 9, 2023
City of Chicago, Shelter, accessed Sept. 14, 2023
City of Chicago, FAQs, accessed Sept. 14, 2023
NBC, Fulton Market, Greektown, tent camps: Where Chicago migrants may be housed as more arrive, Sept. 8, 2023
Chicago Sun Times, Migrants would move from police stations to big tents in 'winterized base camps' under Chicago mayor's new plan, Sept. 7, 2023
Block Club Chicago, Chicago's 'Migrant Camps' Will Be Modeled After New York City's Tent Shelters, Sept. 11, 2023
Fox 5, NYC opens Randall's Island migrant shelter for up to 3,000 people, Aug. 20, 2023
Axios, D.C. still struggling to manage growing migrant crisis, Sept. 7, 2023
WWLP, Massachusetts spending $45M per month to assist migrant families, Aug. 9, 2023
Department of Homeland Security, Department of Homeland Security Announces Distribution of More Than $77 Million in Congressional Funding for Communities Receiving Migrants, Aug. 21, 2023 
White House, Letter, Aug. 10, 2023
The New York Times, G.O.P. Gets the Democratic Border Crisis It Wanted, Sept. 8, 2023
Governor Maura Healey and Lt. Governor Kim Driscoll, Healey-Driscoll Administration and Wu Administration Receive Nearly $2 Million in Federal Funding to Support Migrant Housing, Aug. 18, 2023
The Hill, 103 House Democrats join calls for Biden to open up the immigration playbook, Sept. 11, 2023
The New York Times, New York Employers Are Eager to Hire Migrants. They Can't., Sept. 9, 2023
The New York Times, Why Biden Can't Expedite Work Permits for Migrants, Aug. 31, 2023
AP, Biden policy allowing migrants from 4 countries into the US is praised, criticized at Texas trial, Aug.  24, 2023
PolitiFact, Illegal immigration dropped after new Venezuela program, but public health policy also contributed, Jan. 6, 2023
The New York Times, White House Urges Eligible Immigrants to Apply for Work Permits, Sept. 8, 2023
White House, Readout of White House Meeting with Governor Hochul, Aug. 30, 2023
Phone interview, Stephen Yale-Loehr, professor of immigration law practice at Cornell Law School, Sept. 12, 2023
Phone interview, Nubia Willman, former director of the Office of New Americans for the mayor of Chicago, Sept. 11, 2023
Email interview, Nicole Hallett, director of the Immigrants' Rights Clinic at University of Chicago, Sept. 12, 2023
Browse the Truth-O-Meter
More by Maria Ramirez Uribe