Stand up for the facts!
Our only agenda is to publish the truth so you can be an informed participant in democracy.
We need your help.
I would like to contribute
How health incidents like Bronny James' cardiac arrest fuel COVID-19 vaccine misinformation
If Your Time is short
When basketball star LeBron James' son Bronny James suffered cardiac arrest, entrepreneur Elon Musk and others suggested without evidence that COVID-19 vaccines were the cause.

Experts told PolitiFact that available evidence does not support Musk's claims that COVID-19 vaccines are increasing the number of athletes who collapse or experience cardiac arrest.

This is part of a larger trend in anti-vaccine disinformation that appeared as COVID-19 vaccines were approved and administered. Experts on conspiracy theories say that repeatedly encountering misinformation increases the perception it is true.
A high-profile athlete's cardiac emergency triggered a torrent of COVID-19 vaccine misinformation. 
Sound familiar? 
Just minutes after news about Bronny James' cardiac arrest hit social media, Elon Musk, owner of X (formerly Twitter), amplified anti-vaccine rhetoric, speculating that the COVID-19 vaccine might have caused the medical emergency.
This trend in anti-vaccine disinformation isn't new: News emerges that a public figure has collapsed, died or experienced cardiac trauma. Next, in the absence of a confirmed explanation, comes a flood of false claims about COVID-19 vaccines. 
It happened in January, after Buffalo Bills safety Damar Hamlin collapsed during an National Football League game in Cincinnati. 

In October 2022, bodybuilder Doug Brignole died of a COVID-19 infection, and anti-vaccine activists pushed claims without evidence that he died because of the COVID-19 vaccine. 

People have even tried to link basketball player Keyontae Johnson's Dec. 12, 2020, collapse to the vaccine — although the 22-year-old collapsed days before the COVID-19 vaccine was given to people in the U.S.
The baseless vaccine explanation happens to nonathletes, too, such as Grant Wahl, a sports journalist and soccer analyst who died of a ruptured aortic aneurysm Dec. 10, 2022, while covering the World Cup in Qatar, and ESPN soccer analyst Shaka Hislop, who collapsed on camera July 23.
"Died Suddenly," an anti-vaccine movie released in November 2022, folded ordinary people's health incidents into the web of COVID-19 vaccine conspiracies. Like the claims that enveloped the sports world, the examples in the movie did not withstand scrutiny. Many of the film's deaths were unrelated to COVID-19 or COVID-19 vaccines, including a girl whose death appeared to have been linked to epilepsy and a person who died in a car accident.
"There will be a certain cohort of anti-vaxxers who will blame every death from now until the end of time on the vaccine," said Dr. Eric Burnett, an assistant professor of medicine at Columbia University.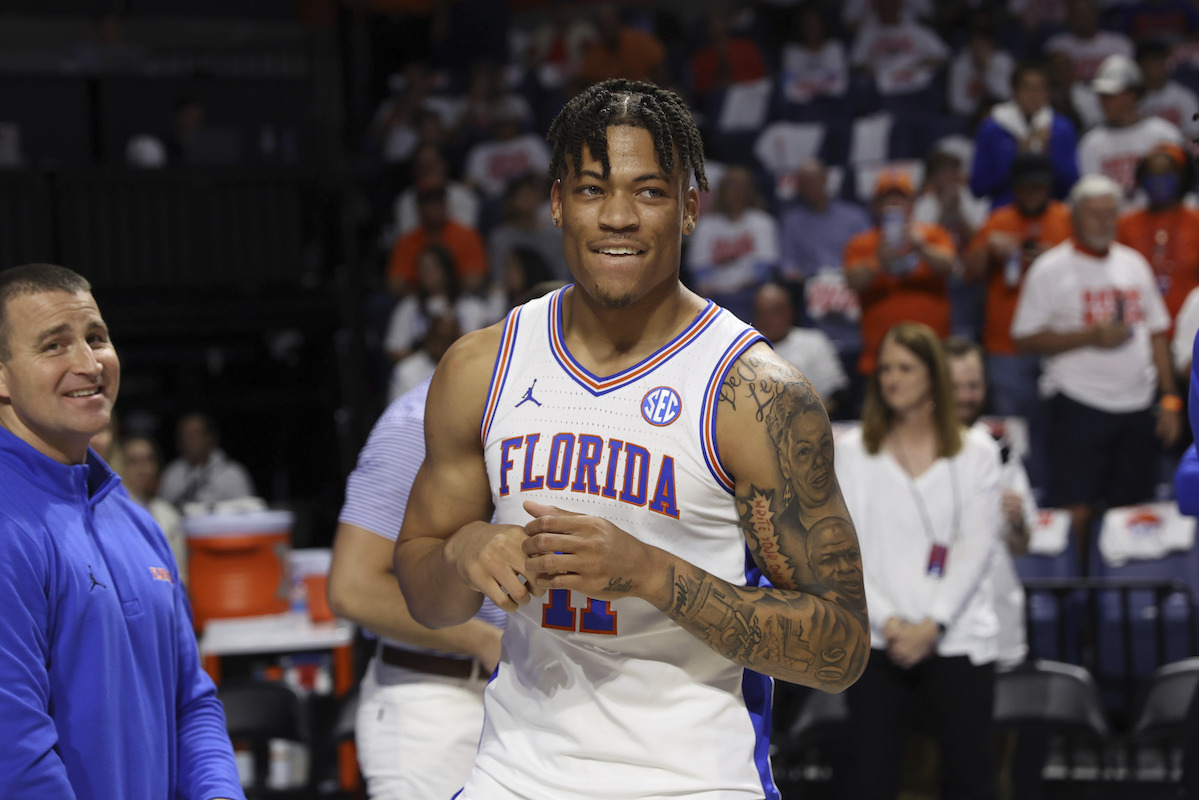 Florida forward Keyontae Johnson smiles after being introduced as a starter before an NCAA college basketball game against Kentucky, March 5, 2022, in Gainesville, Florida. (AP)
A family's emergency fuels anti-vaccine commentary
Bronny James, son of Los Angeles Lakers star LeBron James and a University of Southern California freshman, lost consciousness during a July 24 basketball workout and was treated for cardiac arrest. His family confirmed James was in stable condition July 25 after a short intensive care unit stay, but released no additional information.
When official answers are slow, either because of uncertainty or privacy, it leaves room for speculation and misinformation, said Dr. Joseph Pierre, a health sciences clinical professor in the Psychiatry and Behavioral Sciences Department at the University of California, San Francisco. 
Less than an hour after the James news broke, Musk tweeted: "We cannot ascribe everything to the vaccine, but, by the same token, we cannot ascribe nothing. Myocarditis is a known side-effect. The only question is whether it is rare or common."
Musk has nearly 150 million followers on the X platform, formerly known as Twitter. His tweet has 4.5 million views, according to public metrics.
Myocarditis, inflammation of the heart muscle, has been linked to mRNA COVID-19 vaccines in some rare cases that were often mild and most frequently among adolescent and young adult men. 
Myocarditis is not the same as cardiac arrest, which is when the heart suddenly stops beating. Myocarditis can sometimes lead to cardiac arrest, but the Bronny James news did not mention myocarditis.
"There's something called the 'innuendo effect' whereby even suggestions that something is true lends to its credibility," said Pierre, who has studied conspiracy theories.
Musk's suggestion that myocarditis might be linked to James' cardiac incident "fuels belief in misinformation," he said. "No matter that myocarditis and cardiac arrest are two separate conditions or that the risk of myocarditis appears much greater with COVID than with vaccinations."
Others amplified Musk's speculation.
"I think a lot of people see these situations and it does raise questions about the vaccine," said Fox News host Martha MacCallum during her July 25 show. She read Musk's tweet to her guest, Fox News contributor Dr. Janette Nesheiwat.
(Screenshot from the Internet Archive)
"Is that a fair question to raise, and is it true that we see more of this than we did prior to the vaccine, doctor?" MacCallum asked.
Nesheiwat said cardiomyopathy is more common than myocarditis for people like James and said he would need tests to determine what happened. "We don't have the data to say" whether athletes are experiencing heart trouble more frequently now, she said.
Fox News host Laura Ingraham referred to Musk's tweet in a different program that night.
Musk's speculation "may be completely wrong," Ingraham said. "But we do know that myocarditis is a side effect of the vaccine and, given everything the so-called experts got wrong during COVID, we shouldn't condemn anyone who is asking questions as these cases seem to be accelerating."
Available evidence does not show that COVID-19 vaccines are driving an increase in the number of athletes who experience cardiac emergencies.
"There's absolutely no signal that we've had an increase in the number of deaths over the last several years — amongst high school, collegiate or professional sports," said Dr. Matthew Martinez, the director of Atlantic Health System Sports Cardiology at Morristown Medical Center in New Jersey.
Citing multiple studies, the Centers for Disease Control and Prevention said that besides the risk of myocarditis from COVID-19 infection being higher than the risk from vaccines, myocarditis from infection is "often more serious."
"This is because the SARS-CoV-2 virus invades cells of the heart, plus the body generates an overactive immune response to the infection," the CDC said, referring to the novel coronavirus that causes COVID-19.
Although myocarditis can cause cardiac arrest, myocarditis isn't the most common cause, said Martinez, a sports cardiologist who consults with the National Football League and the National Basketball Players Association.
"In general, I would say it's less than 10% of the time (that) myocarditis causes sudden cardiac arrest," he said.
How vaccine conspiracy theories outpace corrections
Musk's tweet attracted a community note from X users. The notes program lets certain users submit context to tweets that might be misleading.
"Studies show that the risk of myocarditis is significantly higher after an actual Covid infection than with the vaccine," read the note on Musk's tweet, citing a news story and a Q&A with Yale researchers. "Among adolescent boys, the risk of myocarditis following a Covid infection was approximately twice that of the risk following the second vaccine dose." 
That community note disappeared. It is unclear why it was removed or whether Musk had something to do with it. Sometimes notes disappear from public view if community notes users vote them down.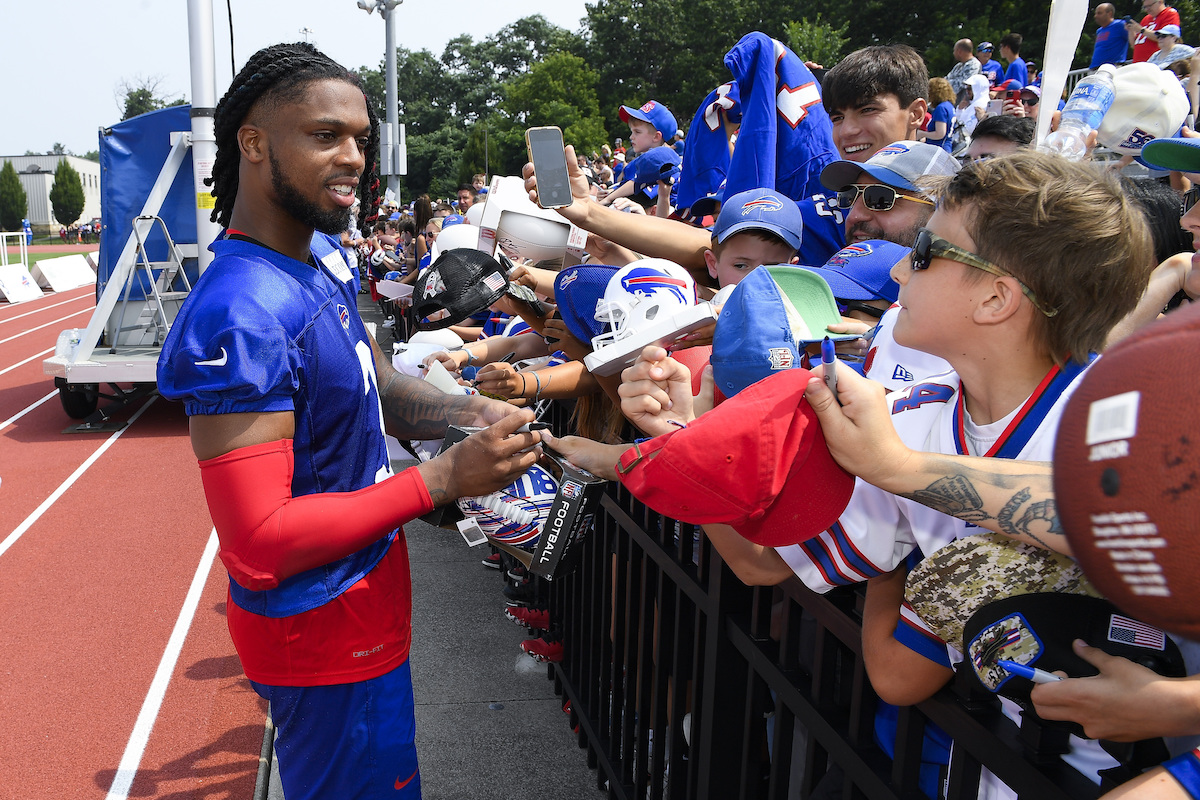 Buffalo Bills safety Damar Hamlin signs autographs after practice at the NFL football team's training camp in Pittsford, New York, on July 26, 2023. (AP)
For now, the maelstrom of vaccine conspiracy theories is stronger than attempts to set the record straight.  
People rationalize their beliefs using various sources, and "often think that the debunkers are part of the conspiracy theory," said Karen Douglas, a professor of social psychology at the University of Kent in the United Kingdom.
Conspiracy theory belief often arises when mistrust of authoritative sources of information leave people vulnerable to misinformation, said Pierre.
Hamlin's midgame collapse is one example of this phenomenon, he said.
"People watching felt horrified and no doubt wondered why a young man in top physical shape would suddenly succumb to a cardiac arrest," Pierre said. "Rather than accept the medical explanation — that it was a textbook case of commotio cordis — some instead discounted that explanation in favor of claims that it was related to vaccines."
Repeatedly encountering claims that COVID-19 vaccines might cause heart problems for athletes also increases the perception that those claims are true, Pierre said. He cited the "illusory truth effect," the tendency to believe false information to be correct after repeated exposure.
Therefore, preemptive strategies that promote vetted knowledge are typically more effective at countering misinformation and conspiracy theories, Pierre said.
Martinez said he handles misinformation and vaccine hesitancy by exploring the science.
"Try and remind (people) of what the facts look like — and that associations are not the same things as causation," he said. 
Researcher Caryn Baird contributed to this report.
RELATED: Damar Hamlin remains in hospital as anti-vaxxers speculate about his collapse
RELATED: 'Died Suddenly' repeats debunked COVID-19 vaccine claims, promotes conspiracy theory
Interview with Dr. Matthew W. Martinez, director of Atlantic Health System Sports Cardiology at Morristown Medical Center, July 27, 2023
Email interview with Ed Pertwee, a sociologist and research fellow in the Vaccine Confidence Project at the London School of Hygiene and Tropical Medicine, July 26, 2023
Email interview with Karen Douglas, professor of social psychology at the University of Kent, July 27, 2023
Email interview with Dr. Joseph Pierre, health sciences clinical professor in the department of psychiatry and behavioral sciences at the University of California, San Francisco, July 26, 2023
Email exchange with Karen Zatorski Senior Public Relations Manager at Morristown Medical Center, July 26, 2023
Email interview with Dr. Eric Burnett, assistant professor of medicine at the Columbia University Department of Medicine, July 27, 2023 
The Independent, Fox News promotes conspiracy theory linking Bronny James collapse to Covid vaccine, July 26, 2023
NBC News, Hamlin's collapse spurs new wave of vaccine misinformation, Jan. 5, 2023
The Washington Post, Twitter is turning into X. Analysts don't see the treasure map, July 24, 2023
Forbes, Twitter Deletes Fact-Check Of Musk Connecting Bronny James' Cardiac Arrest To Covid Vaccine, July 25, 2023
U.S. Centers for Disease Control and Prevention, Myocarditis and Pericarditis, Sept. 27, 2022
U.S. Centers for Disease Control and Prevention, Cardiac Arrest, accessed July 26, 2023
Mayo Clinic, Myocarditis, accessed July 26, 2023
Tweet, July 25, 2023
Elon Musk tweet, July 25, 2023
Los Angeles Times, Bronny James suffers cardiac arrest at USC workout and is in stable condition, July 25, 2023
Los Angeles Times, 'Lets go Bronny … we all pullin for u': Sports world reacts to LeBron James' son's cardiac arrest, July 25, 2023
PolitiFact, Bodybuilder Doug Brignole died from a COVID-19 infection, not the vaccine, coroner finds, Oct. 24, 2022
NBC News, Hamlin's collapse spurs new wave of vaccine misinformation, Jan. 5, 2023
Internet Archive, The Ingraham Angle  FOX News July 25, 2023 4:00pm-5:00pm PDT, July 25, 2023 
Internet Archive, The Story With Martha MacCallum  FOX News  July 25, 2023 12:00pm-1:00pm PDT, July 25, 2023
TV Eyes clip from News 102.3 KRMG, Tulsa, Oklahoma, from 2:59:30, July 25, 2023
Snopes, No Evidence COVID-19 Vaccine Caused Bronny James' Cardiac Arrest, July 25, 2023
Poynter, Why Twitter's Community Notes feature mostly fails to combat misinformation, July 30, 2023
PolitiFact, There's no proof athletes collapsed with heart issues because of COVID-19 vaccination, Dec. 1, 2021
European Science-Media Hub, Interview with Dr. Ed Pertwee: vaccine hesitancy and lessons learnt, Aug. 24, 2022
Yale New, Yale study reveals insights into post-vaccine heart inflammation cases, May 5, 2023
U.S. Centers for Disease Control and Prevention, Cardiac Complications After SARS-CoV-2 Infection and mRNA COVID-19 Vaccination — PCORnet, United States, January 2021–January 2022, accessed July 27, 2023
U.S. Centers for Disease Control and Prevention, Clinical Considerations: Myocarditis and Pericarditis after Receipt of COVID-19 Vaccines Among Adolescents and Young Adults, accessed May 23, 2023
PolitiFact, Uptick in cases of myocarditis in newborns in Wales linked to enterovirus, not COVID-19 vaccines, May 23, 2023
U.S. Centers for Disease Control and Prevention, Q&A: COVID-19, Vaccines, and Myocarditis, July 1, 2022
Nature Medicine, Risks of myocarditis, pericarditis, and cardiac arrhythmias associated with COVID-19 vaccination or SARS-CoV-2 infection, Dec. 14, 2021
Springer Link, The benefit of vaccination against COVID-19 outweighs the potential risk of myocarditis and pericarditis, March 9, 2022
Springer Link, Comparisons of the risk of myopericarditis between COVID-19 patients and individuals receiving COVID-19 vaccines: a population-based study, March 25, 2022
PolitiFact, There's no proof athletes collapsed with heart issues because of COVID-19 vaccination, Dec. 1, 2021
Journal of Social and Political Psychology, Mistrust and Misinformation: A Two-Component, Socio-Epistemic Model of Belief in Conspiracy Theories, Oct. 12, 2020
The American Heart Association, What is commotio cordis, which NFL player Damar Hamlin says stopped his heart? April 18, 2023
The New York Times, Elon Musk's Quixotic Quest to Turn X Into an 'Everything App,' July 27, 2023
PolitiFact, Grant Wahl died from a ruptured aortic aneurysm, not a COVID-19 vaccine, Dec. 14, 2022
PolitiFact, Unfounded claims blaming COVID vaccine for ESPN analyst Shaka Hislop's recent collapse spread online, July 24, 2023
Browse the Truth-O-Meter
More by Madison Czopek