Stand up for the facts!
Our only agenda is to publish the truth so you can be an informed participant in democracy.
We need your help.
I would like to contribute
PolitiFact's top 10 stories of 2022
Russia's war on Ukraine, the U.S. midterm elections and investigations into former President Donald Trump were just a few of the headlines in 2022.
These stories spurred misinformation and left readers with questions.
At PolitiFact, we looked for opportunities to go beyond our fact-checking and dive deep into complex news events, answering readers' queries and profiling prominent misinformers along the way.
Here's a countdown of the 10 most-read PolitiFact stories in 2022.
The FBI removed more than a dozen boxes of presidential records, including some containing classified material, from Trump's Mar-a-Lago home in Palm Beach, Florida, during a property search in August.
Removing and destroying official records is a federal crime and, per a federal statute, bars people convicted of it from holding office. But that doesn't mean Trump could not be president again in 2024. The U.S. Constitution lists age, citizenship and residency as the only qualifications to run for president; it does not mention criminal charges or convictions.
Well-known pundits and viral posts warned of a "devastating" food crisis in the U.S. after Putin's invasion of Ukraine in late February.
The war affected economies worldwide and disrupted supplies of commodities such as wheat and sunflower seed oil. But the U.S. and other wealthy nations were not as vulnerable to food shortages as Ukraine and others. Poorer nations that rely heavily on imports were the most at risk. The war did affect inflation, making grocery store items more expensive, but that does not mean the goods were unavailable.
Despite many fact-checks debunking false claims that the 2020 election was stolen, posts about past election fraud continued into the 2022 midterm election cycle. Ten months out from Election Day, one Facebook user suggested adding a serial number to every ballot to prevent fraud.
But the post failed to mention that election officials already have ways to track ballots and ensure only legitimate ones are counted. Also, adding a serial number to ballots would compromise a fundamental freedom: the right to a secret ballot.
Ballot secrecy is guaranteed by law in all states. It prevents someone from being able to access your ballot later and know exactly which candidates you voted for.
Soon after FBI agents searched Mar-a-Lago, Trump and many of his supporters began drawing comparisons between his boxes of documents and 2016 Democratic presidential candidate Clinton's emails.
Clinton's use of a private email account for exchanges with her staff during her time as secretary of state resulted in an FBI investigation. Clinton was never charged, but the investigation found that, in three instances, email chains included information with ambiguous classification markings. By comparison, Trump's documents were clearly marked classified, an expert told PolitiFact.
Even before the FBI's Mar-a-Lago search, questions about Trump's eligibility to run again for president were already looming.
The House of Representatives' committee on the Jan. 6, 2021, insurrection said in a March federal court filing that Trump may have broken the law in his attempts to get himself declared the winner of the 2020 election after he lost to President Joe Biden. And in Georgia, Trump was under investigation by Fulton County prosecutors who are probing whether he violated election laws after he asked state election officials to "find 11,780 votes, which is one more than we have."
But as we mentioned above, the U.S. Constitution does not specify that a criminal indictment or conviction prevents someone from running for president. However, a separate section of the Constitution bans federal office holders who "engaged in insurrection or rebellion." It was a condition added after the Civil War, but using it to keep today's candidates off the ballot is a legal long shot. Some state laws and constitutions bar felons from running for office, but that's for state or local offices only.
Gasoline prices quickly increased following the start of Russia's war on Ukraine. In July, critics, including conservative media outlets, attacked Biden for selling oil from the Strategic Petroleum Reserve to a Chinese-owned company. Some of the news coverage implied a connection between the sales and Chinese investments linked to Biden's son Hunter.
Experts told PolitiFact the sales were governed by U.S. law, and they saw no way that the Biden family could have influenced or benefited from the sales.
They explained that the U.S. government is obligated to find the highest possible price for assets that it sells, and sometimes U.S. companies aren't able to handle more oil when the sale is held, leaving foreign companies to buy it. The oil market operates on a global level. Lower prices are the results of changes to supply and demand globally, not just in the U.S.
Tight races in key states led to a flurry of attacks in the midterm elections. In Georgia's U.S. Senate race, an ad from Republican candidate Herschel Walker accused his opponent, incumbent Democratic Sen. Raphael Warnock, of hitting his wife with his car, neglecting his children and running away from a process server who tried to serve him court papers.
Our review of the claims made in the ad found that while Warnock's ex-wife, Ouleye Ndoye, has alleged that he ran over her foot, police found no evidence of that. Ndoye also said Warnock often left the children in the care of others. However, details of the custody case are filed under seal and are therefore publicly unavailable. A process server did say Warnock drove away when he tried to serve Warnock with court papers.
The Super Bowl in February brought a capacity crowd of more than 70,000 to SoFi Stadium in Inglewood, California. It also spurred claims that the packed stadium was proof that Americans have nothing to fear from the coronavirus.
Social media posts comparing the Super Bowl to school mask mandates ignored the safety rules that were in effect at the sporting event, and glossed over differences in COVID-19 transmission risk in indoor and outdoor settings.
Although many ignored the mandate, fans attending the Super Bowl were told to wear masks "at all times within SoFi stadium unless actively eating or drinking." Attendees were also required to show either proof of vaccination or proof of a recent negative COVID-19 test.
At the time, the Centers for Disease Control and Prevention recommended "universal indoor masking" for K-12 schools, regardless of vaccination status. But requirements varied widely across the country.
A documentary from a right-wing filmmaker with a history of spreading false claims promised to give evidence to millions of Americans who believe something went wrong in the 2020 election. PolitiFact analyzed the trailer for commentator Dinesh D'Souza's "2000 Mules" movie, which furthered the myth that something sinister occurred with 2020 mail ballots.
D'Souza told Fox News that people whom he describes as "mules" delivered 400,000 illegal votes. Experts said the evidence D'Souza points to is inherently flawed. Many states have laws allowing people to return completed mail ballots on behalf of others, such as family members. Ballot drop boxes are more secure than standard mail boxes.
The 2020 presidential election was secure and evidence from state and federal officials and courts shows no indication of widespread fraud. Although authorities identified isolated cases of voter fraud, these instances were in such small numbers it would not have changed the election's outcome.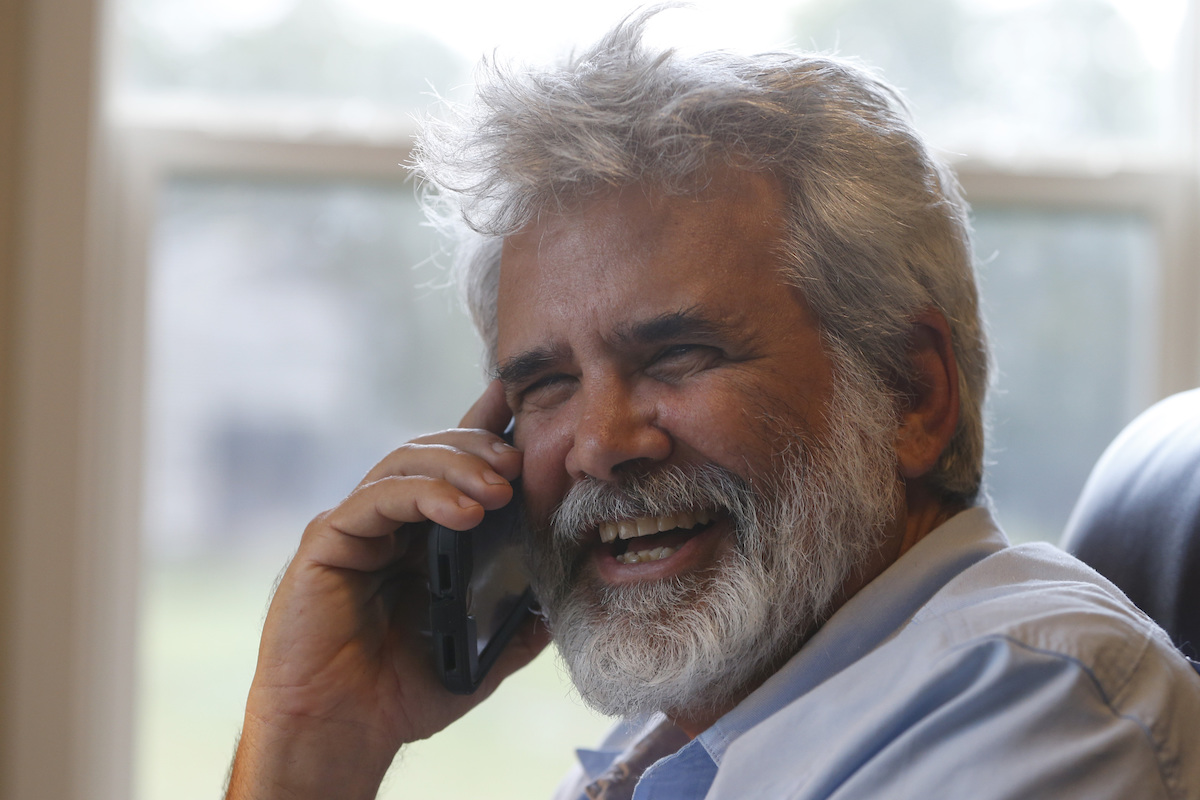 Dr. Robert Malone talks on his phone July 22, 2020, as he works from a home office in Madison, Va. (AP)
In January, anti-vaccine activist Dr. Robert Malone was banned from Twitter for violating the platform's COVID-19 misinformation policies. YouTube also removed videos of a controversial interview he did with Spotify podcast host Joe Rogan.
Leaning on his early contributions to research around the mRNA vaccine technology now used in the COVID-19 vaccines, Malone billed himself as the "inventor" of mRNA vaccines. In reality, the development of the vaccines and the technology they rely on involved countless scientists and several other breakthroughs.
Malone promoted several false and misleading claims about the COVID-19 vaccines and the pandemic. His claim of being the mRNA vaccine inventor and his ability to speak fluidly in scientific terms gave him great appeal to anti-vaccine audiences.
Our report was the most popular story without a Truth-O-Meter rating of the year.
See links in fact-checks.
Browse the Truth-O-Meter
More by Maria Ramirez Uribe