Stand up for the facts!
Our only agenda is to publish the truth so you can be an informed participant in democracy.
We need your help.
I would like to contribute
Ask PolitiFact: We've seen reports of three train derailments this month. Is this normal?
If Your Time is short
Federal data shows that on average, more than 1,000 train derailments happen each year.

Most derailments do not cause extensive damage or result in injuries or deaths.

There is nothing suspicious about three derailments being featured in news headlines in February, a railroad expert said.
All eyes are on America's railways following the calamitous derailment of a freight train in East Palestine, Ohio.
On Feb. 3, more than 30 cars of a Norfolk Southern train derailed, some containing hazardous chemicals. Officials temporarily evacuated the area and conducted a controlled burn of the chemicals to prevent a potential explosion. 
In the days since, photos of a plume of black smoke towering over East Palestine have circulated in news reports and elsewhere online — and concerns about health, safety and environmental impact of the derailment have continued to mount.
Reports of two more train derailments Feb. 13 — one in Enoree, South Carolina, and one in Splendora, Texas — put some social media users on edge.
"Another train derailment in South Carolina, the SECOND one this month," one person wrote on Twitter. "Something seems fishy!" 
Another person tweeted after seeing reports of "a THIRD derailment!!" and said, "It's not a coincidence anymore, watch your 6."
Others refrained from suggesting foul play, but still had questions. 
"I know NOTHING about trains — is this a normal occurrence?" one Twitter user asked. "Any experts want to weigh in?"
We looked into it, and yes, train derailments happen fairly often. More than 1,000 train accidents happen every year, according to federal data.
In 2021, the most recent year for which data was available, eight people died and 118 were injured in 1,627 train accidents, involving both passenger and cargo trains. Those are fairly typical figures for the past decade or two, according to federal statistics.
Derailments, which involve a train leaving the track, are the most common type of train accident. 
From 1990 to 2021 there were an average of 1,705 train derailments per year, according to data from the U.S. Bureau of Transportation Statistics and Federal Railroad Administration.
In 2021, there were 1,087 train derailments, according to the Bureau of Transportation Statistics. That amounts to an average of about 90 derailments per month or about three derailments per day.
Although they are common, they are not commonly catastrophic.
Many derailments result in relatively minor damage
Most derailments don't become national news because they don't involve death, injury or hazardous substances.
The Federal Railroad Administration requires a derailment be reported if it causes more than $12,000 of damage to the track or equipment, said Allan Zarembski, director of the University of Delaware's Railway Engineering and Safety Program. 
"It does not take a lot to generate $12,000 worth of damage to a locomotive or to a piece of track or even to a freight car," he said. That $12,000 threshold equates to "a couple of hundred bucks of damage to your car." 
Many reported derailments happen in yards, which is where trains are assembled before they start their planned routes, Zarembski said. 
"They're the fender-benders of the railroad world," he said. Yard derailments are typically low-speed and low-energy derailments that cause somewhere between $10,000 and $30,000 in damage.
A derailment that caused $100,000 in damage would be considered "a fairly big derailment" within the industry, Zarembski said. He added that a typical locomotive costs about $3 million to $4 million.
So, the derailment in East Palestine likely caused millions of dollars in damage, Zarembski said.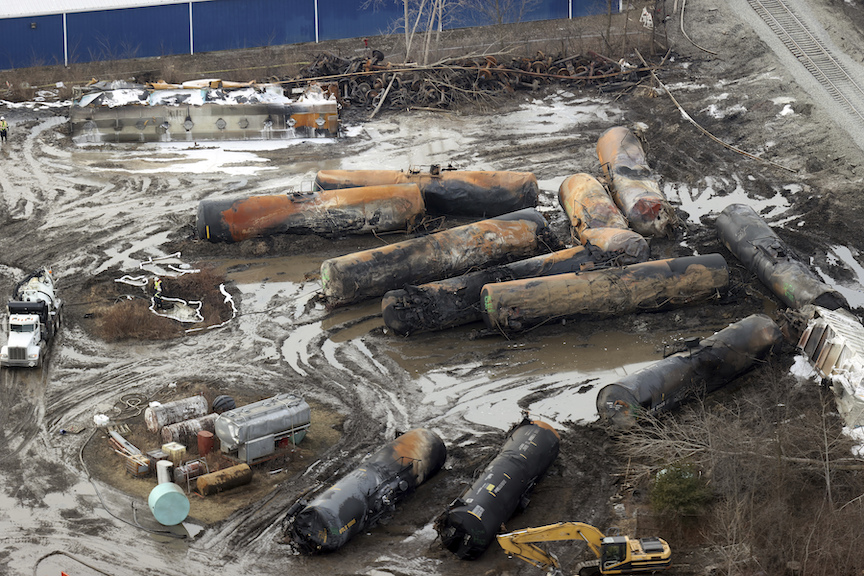 Aerial view of a train derailment that contained hazardous chemicals. Residents were allowed to return home after tests deemed it to be safe in the area on Feb. 8, 2023, in East Palestine, Ohio. (AP)
How rare is it for a derailment to involve hazardous materials or cause injuries, death?
From 1990 to 2021, train derailments caused 131 deaths, or about four deaths per year. 
According to the bureau's recent data on train derailments: 
Derailments resulted in 21 injuries and no deaths in 2019. 

Derailments caused 28 injuries and no deaths in 2020.

And derailments resulted in 83 injuries and three deaths in 2021.
Over the last 10 years, about 10 to 20 derailments each year have involved hazardous material releases, Zarembski said. He described derailments that result in the release of hazardous materials as "extremely rare."
Thousands of trains travel the U.S. rail network daily and it's important to consider the number of hazardous material train derailments relative to the size of the United States' rail network.
The U.S. freight rail system comprises about 140,000 miles and is widely considered one of the world's largest, according to the Federal Railroad Administration.
China, by contrast, has half the U.S. system's mileage, and Russia and India have about 40%, Zarembski said.
Taking all those factors into account, Zarembski said: "No, it is not suspicious to have three derailments in one month." 
PolitiFact Senior Correspondent Louis Jacobson and Contributing Writer Sara Swann contributed to this report.
RELATED: Ohio derailment is just the latest serious industrial accident in the U.S.
RELATED: The Ohio train derailment: What we know about health, environmental concerns
Pennsylvania Emergency Management Agency tweet, Feb. 6, 2023 
NPR, Ohio crews conduct a 'controlled release' of toxic chemicals from derailed train cars, Feb. 6, 2023
NPR, Health concerns grow in East Palestine, Ohio, after train derailment, Feb. 14, 2023
ABC News, There were more toxic chemicals on train that derailed in Ohio than originally reported, data shows, Feb. 13, 2023
New Republic, Life after the Ohio train derailment: Trouble breathing, dying animals, and saying goodbye, Feb. 13, 2023
Fox Carolina, Investigation underway after train derailment in Enoree, Feb. 13, 2022
KIRO 7, Officials: Truck driver dead after crash leads to train derailment in Texas, Feb. 13, 2023
Tweet, Feb. 13, 2023
Tweet, Feb. 13, 2022
KTLA 5, How often do trains derail? More often than you think, June 27, 2022
Bureau of Transportation Statistics, Train fatalities, injuries, and accidents by type of accidents, accessed Feb. 14, 2023
Statement from a spokesperson for the Bureau of Transportation Statistics, Feb. 14, 2023
Interview with Allan M. Zarembski, Director of the Railroad Engineering and Safety Program at the University of Delaware and professor of civil and environmental engineering, Feb. 15, 2023
Federal Railroad Administration, Freight rail overview, accessed Feb. 15, 2023
Association of American Railroads, Rail service interruption could cost economy $2 billion per day, Sept. 8, 2022
Mike DeWine Governor of Ohio, East Palestine update: Evacuation area extended, controlled release of rail car contents planned for 3:30 p.m., Feb. 6, 2023
Axios, What we know about the Ohio train derailment, Feb. 14, 2023
Emailed exchange with a spokesperson for the Federal Railroad Administration, Feb. 14, 2023
The New York Times, After the Ohio Train Derailment: Evacuations, Toxic Chemicals and Water Worries, Feb. 13, 2023
KHOU 11, Emergency crews respond to deadly train derailment in Splendora area, Feb. 13, 2023
USA Today, How often do train wrecks spill hazardous chemicals into neighborhoods? Here's what data shows, Feb. 9, 2023
CBS News, Excess size caused train to break down in days before it derailed in Ohio, employees say, Feb. 15, 2023
National Transportation Safety Board, NTSB issues investigative update on Ohio train derailment, Feb. 14, 2023
The Washington Post, Toxic chemicals burn over Ohio derailment site during controlled release, Feb. 6, 2023
Bloomberg, Ohio train derailment could bring cancer risk, millions in damage, Feb. 15, 2023
Browse the Truth-O-Meter
More by Madison Czopek